Ross High School Announces Prom is On
On Feb. 25, Governor Mike Dewine announced that events such as prom, graduations, and weddings are approved with revised COVID guidelines. Because of this, RHS plans to host prom on May 15. 
Dewine has not released the specific guidelines yet, but he did push for mask-wearing and that such mandate would be a requirement in order for the event to occur. Dewine stated, "The vaccines have given us great hope, but until we have enough Ohioans vaccinated, we must continue masking and social distancing."
With Homecoming being canceled this year, students have been anxiously waiting to hear about one of the biggest events in the school. Prom is set for May 15, at Pyramid Hill Sculpture Park. AfterProm is to follow at the Main Event in West Chester. 
Junior Class Advisor Mrs. Muller stated, "It is outside, so that we can safely have a prom for our students this year. Masks will still need to be worn by everyone in attendance. With the change of venue, the class officers are looking for ways to make this prom special for the students here currently as well as our 2020 graduates."
This has given the chance to the 2020 graduates to experience their high school prom after their last year of high school was disrupted with lockdown in March. 
Before this was announced, there was a lot of debate and guessing whether or not to make it seniors and their guests only, or try to go forth with the normal juniors and seniors. 
Senior Alexis Peters said, "I believe prom should be seniors only with their guests. Next year everything should be back to normal and juniors will at least get [their] senior prom whereas we haven't had either."
On the other hand, Junior Sam Rousch said, "I don't really see the point. With the number of underclassmen, alumni, and non-Ross students that are invited by their partners every year, the crowd would hardly change."
The debate between who should be allowed to come has been settled, and there has been little to no disputes on whether or not prom should happen. In a survey sent to Ross High School's Student Body, 19 respondents said yes to prom happening.
Senior Kelley Dunn said, "I think it should. This group of seniors have lost a lot of monumental high school landmarks due to Covid. The least we could get is a normal senior prom."
As the plans for prom have started rolling out, the excitement for the event has grown in the halls. The news of prom being able to happen has also given hope to the student body for future events such as graduation to occur, even with this abnormal school year.
Check Schoology for more information to come as the date gets closer, and as more guidelines are announced. 
About the Writer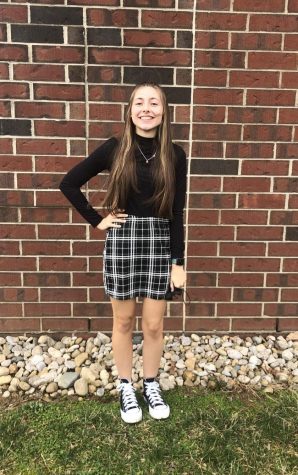 Jennifer Schwab, Staff Writer



Jennifer is a senior and in her first year of journalism. She plays the clarinet for the band and Ross Legacy's show choir band. She is the Librarian for the band and is in Tri-M Music Honor Society as well. She plans on going to Miami University to major in English and minor in Law, to further a career as a paralegal or to go into the publishing realm. She loves hanging out with her friends, family, and dogs, and going to concerts. She is very excited to further her writing career.