My Story
Many here at RHS see me or know me as a put together athlete who does pretty well in school and is nice to everyone. What many do not see is the struggles I have been through since my father passed away. 
I was 12 and in 6th grade when I found out my dad passed away on Saturday December 10th, 2016. I decided to go to school the following Monday to maintain a sense of normalcy and prevent people from worrying about me. 
I did not really speak on how I was feeling instead I would say I was feeling okay. Eventually putting it into the back of my mind stopped working. I still wasn't saying anything, instead I would eat to make myself feel better.
Eating made me forget about all the bad feelings I had bottled up inside, it helped me find comfort. Even with all the support my family had shown, especially my mother, I still was eating and turning to food to feel better emotionally. 
I started to eat two dinners a night eating out before sports and then going home and eating snack after snack. I would get up in the middle of the night to eat food. On the weekends I would eat for hours, not stopping until I felt sick. 
As I went into the spring of my 7th grade year, I started to notice the physical effects that eating excessively was having on my body. I ended up going to the pediatrician a few months later, they tried talking to my mother about putting me on a diet or getting us a visit with a nutritionist. 
My mom refused to acknowledge what the doctor had said because of what I had been through.  At that visit I ended up weighing about 156lbs at the height of 5'2. After the visit and joining a support group for children with deceased parents or guardians, I still had not changed my ways. 
I stayed the same way until the winter of my 8th grade year. When I weighed myself again I was pushing 165 lbs and I had not grown much more. I started to work my butt off to lose weight, I joined the track team and ran everyday. I started to work harder at dance and at soccer doing everything I could not only to improve my performance but also to become healthier. 
High school soccer workouts started over the summer of 2019. I started to see the difference in my abilities as I was losing weight. I could run more and was able to play the whole game without needing a break. 
At the beginning of my freshman year I had gotten down to around 130lbs. I thought I was pretty content with that but I started to continue to try and lose more. I stayed at around 125-130 lbs until the winter of my sophomore year when I joined the swim team. 
Joining the swim team changed my physical health tremendously. I started to see my muscles toning and I started to feel like myself once again. I had gotten down to 115 lbs which was amazing especially going into club soccer season. Doing both I saw great improvement in my abilities on the field and even got looked at by college coaches. 
After the swim season ended in February of 2021 and then the club season ended in May of 2021 I started to gain back a little bit of weight. I started to watch what I was putting in my body, what I was eating, and when I was eating very closely. 
This past summer I started watching what I was eating very closely, even getting to the point where I was not eating more than a meal a day so I wouldn't gain weight. I went to the athletic trainer here at RHS and we started to get control over it by tracking less and enjoying more. 
Now, I am at a healthy weight of 115-120 lbs. I still struggle with watching my calories too closely and getting crazy about what I eat, I will always battle it and I understand it. If you're struggling with any aspect of life know you're not alone, reach out to someone to receive the help and support you need. 
Leave a Comment
About the Contributor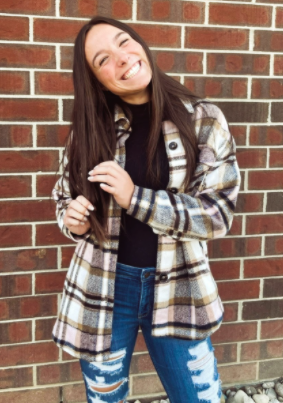 Estella Varner, Staff Writer





Estella is a junior in her second year of journalism. She is on the RHS soccer and swim teams, a part of FCCLA as a fundraising officer as well as on a club soccer team and a competitive dance team. Outside of school she enjoys spending time with family and friends. Estella plans on going into a nursing or sonography program post-graduation.