Diving Into New Roles
As all Ross High School students strive for excellence in what they do academically and athletically, these four students choose to show it through their leadership roles on the Swim and Dive Team.
The students chosen were seniors Lauren Bennett and Jefferey McDonald, as well as juniors Tyler Ponder and Nick Jackson. The new team captains took on their positions for the 2021-22 school year with diligence for the new spot they were going to uphold. 
McDonald stated, "Well being a captain isn't really about bossing everyone else around, it's more like making sure everyone is doing their part on the team and leading them. I can't tell you what I did to get the position but…I came to practice everyday and made sure I left nothing behind while I swam."
Performance wise, captains for this school year were able to attain their new roles based upon how they acted in the season prior. The swimmers this season are also beginning to follow in the footsteps of those in the last. 
Bennett stated, "I am super excited to be back to swimming our big meets, since most of them got canceled due to Covid…We have swam in 2 meets so far, and we have won both. Both the boys and girls team won the Lawrenceburg Invitational that we were at this past weekend."
Coming off the high of last season it is exciting to see our teams adjusting to a semi-normal experience. Many were not able to compete in certain meets due to size capacity and many other limitations. However, these circumstances have not stopped these Rams from giving everything they have to the team in and outside of the water.
Jackson stated, "What I enjoy the most about swim is probably the meets, or seeing improvement throughout the year and getting better at the events I swim…What I'm most excited is to see the team at [SWOC] the boys team has 2 new freshmen who are outstanding at the sport, and I want to see us win [SWOC] this year."
When you know what you are capable of, a new brand of confidence is bestowed upon you. The RHS swim and dive team has seen a multitude of successes in the past, with little doubt that this will be replicated in the seasons to come.
Ponder stated, "It's more than just a name to a position, it's the team choosing you out of everyone to be a representative for the team. This is my third year swimming and I've loved every season of it…I'm looking forward to SWOC championships to finally take over as the champs. The girls did it last year and this year it's the boys' turn."
Leave a Comment
About the Contributor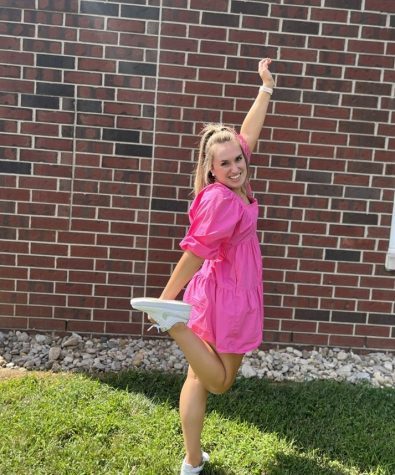 Lexie Gibbons, Editor and Staff Writer
Lexie is a senior at RHS and in her third year of journalism serving as an Editor and Staff Writer. She is an active part of Ross' Show Choir, but outside of school she enjoys traveling and spending time with the ones she loves most. Though no one truly ever knows what the future has in store, Lexie loves to laugh and make as many memories as possible!