The Olympic Games Seen Around The World
The Olympic Games are broadcast around the world and many people look forward to watching. This year, the winter Olympics were held in Beijing and consisted of 109 events. Some of these events included skiing, snowboarding, ice hockey, and figure skating.
Many influential things happened during this year's Olympic games, both good and bad. The United States won 24 medals overall which is the most since 2006. New Zealand won their first-ever gold medal in the winter Olympic games by snowboarder Zoi Sadowski-Synnott.
A junior at RHS, Alex Krabbe, stated, "One thing that stood out and was a bit of an upset in the hockey world was that since Canada and the USA both lost before making it to the semis, Finland took the gold."
Despite many amazing and uplifting moments, there were also less inspiring moments in this year's games. One of the most controversial parts was Kamila Valieva, a Russian Olympic Committee (ROC) Figure Skater, testing positive for a drug called Trimetazidine. This drug improved her endurance which gave her an unfair advantage over opponents. Valieva was suspended but later told that she could compete in the women's skate.
Another big upset was in the ski world when Mikaela Shiffrin messed up on three different races. Shiffrin is considered to be one of the best Alpine skiers, but these Olympic runs weren't her finest. Unfortunately, due to this, Mikaela Shiffrin left Beijing without any medals which was a shocking loss for both her and team USA.
Although Mikaela Shiffrin left the 2022 Olympics with no medals, there were many outstanding performances by other US athletes. One of these athletes was Lindsey Jacobellis. At the age of 36, this snowboarder won the first gold medal for the US at the Beijing Olympics.
"I thought it was cool when Lindsey Jacobellis from the United States got first place. Then she gave a good speech about how long it took for her to get good at skiing," stated Leland Fritz, a freshman at RHS.
The United States overall had good results at these Olympics. This year was still considered to be a "Covid Olympics", but everything went much smoother than the past two years.
"I liked that people could compete this year and that Covid didn't completely shut that down," stated Olivia Mueller, a junior at RHS.
Although Covid still affected the Olympics, it didn't disrupt the events in any major ways. Anyone that was involved was given a covid test every day and masks were required. Also, athletes were told to stay in their rooms when not competing or practicing. All of these aspects allowed these 2022 Olympics to take place successfully.
The past two years have been chaotic in just about every aspect of our lives, including the Olympics. There were highs and lows of the 2022 Beijing Olympics, but overall, they were a victory. The Olympics serve as a way that unites people around the world, which is something we need right now.
Leave a Comment
About the Contributor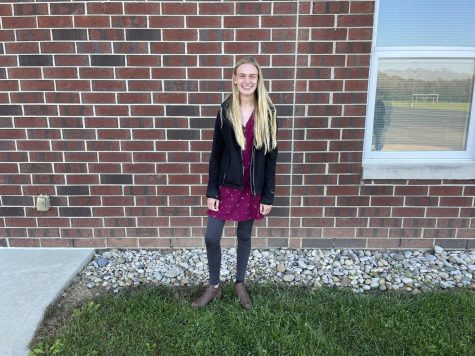 Sadie Butterfield, Staff Writer
Sadie Butterfield is a junior at Ross High School and is in her first year of journalism. She plays the mellophone and french horn in marching, concert, and pep band. She is also the Vice President of history club and is in many CCP and AP classes. In the future, she wants to go into the field of medicine and become a biomedical engineer.