Steven Knebel: Chasing the Best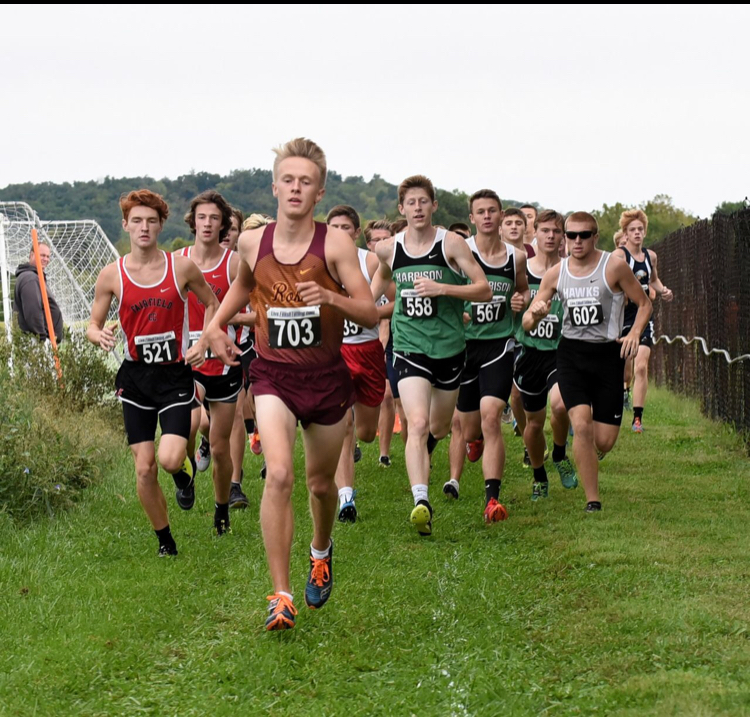 Imagine a student athlete with a 3.996 weighted GPA who is applying to West Point and for the national ROTC scholarship, but in the midst of all of this, he is also close to breaking a school athletic record. Meet Steven Knebel.
Steven Knebel is a four time varsity runner for the Rams cross country team. He has led the Rams, who have been very competitive recently, in every race so far this year, but he is not immortal, facing challenges last year.
Knebel said, "Last year I started the season off with mono which ended up almost ruining my season. I wasn't able to condition and I was still working out that sickness for most of the year."
That didn't discourage Knebel coming into this year. He knew what had to be done in order to chase after the record of a 16:42 5K that RHS' Athletic Director, Jake Richards, currently holds.
Knebel said, "I do push myself mentally and physically at every practice and at meets. It's extremely difficult to run hard almost everyday when your body continuously hurts."
The cross country team notices this as well. They all know how bad he wants the record.
Teammate Paul Southwick, senior, said, "He developed into a great person with high potential and that's when I knew he had it. I 100 percent believe Steven will break the record… All Steven has to do is just block the time out and think about all of us who care about him."
Knebel may be the only one who breaks the record this year, and he gives his team a lot of credit.
"I don't think I would be running my times if I didn't have such a great team behind me," said Knebel.
The RHS Cross Country Head Coach, Mychael Fuechter spoke very highly of Knebel, even though he has only known him since July.
Fuechter said, "Steven's role on the team is more than just the number "1" runner. He is a true captain of this team. He shows the leadership skills every coach dreams to have. There is usually one person I text to get the word out to the team and that is Steven. He is humble when it comes to everyone he has a chance to be in contact with. He inspires the younger runners and even some of the upperclassman to be better just by being there. You can tell practice is not the same when he is not there. I know this is the man his parents raised to be but I would also say coach Richards has had a hand in molding Steven into such a fine leader and captain of our cross country team."
Coach Fuechter has faith in Steven as a leader and as a runner who may be pushing into the postseason.
"I believe he has a very solid chance at qualifying individually for he Regional meet at Troy this year. Our region is very very tough on the boys side but Steven holds the keys to his future and I believe he has the heart and desire to make it there," said Fuechter.
The cross country team knows Knebel as a captain and a leader but only Southwick knows him as a teammate and competitor, going back to Knebel's and Southwick's middle school days.
Southwick said, " Running against Steven was great back then. We could go back and forth in races making it a real competition… When Steven came to cross country freshman year, I was so happy for us to finally run together on the same team."
The cross country team expresses the family feel between themselves. Each and every one of them is looking forward and cheering Knebel on as he chases the RHS school record. Go cheer on Knebel and the rest of the cross country team as they head to the SWOC Championship at Talawanda high school on Oct. 13. then they make their way to Voice of America Park for the District Championships on Oct. 20.
About the Contributor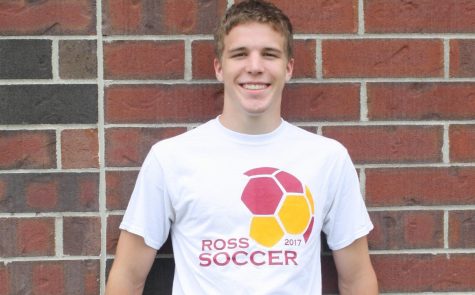 Brayden Ploehs, Staff Writer
Brayden Ploehs is a senior at Ross High School and this is his second year of journalism. Brayden enjoys participating in sports such as Cross Country and Wrestling. He plans on going to the University of Cincinnati for a degree in engineering.