A Day in the Life of the Athletic Director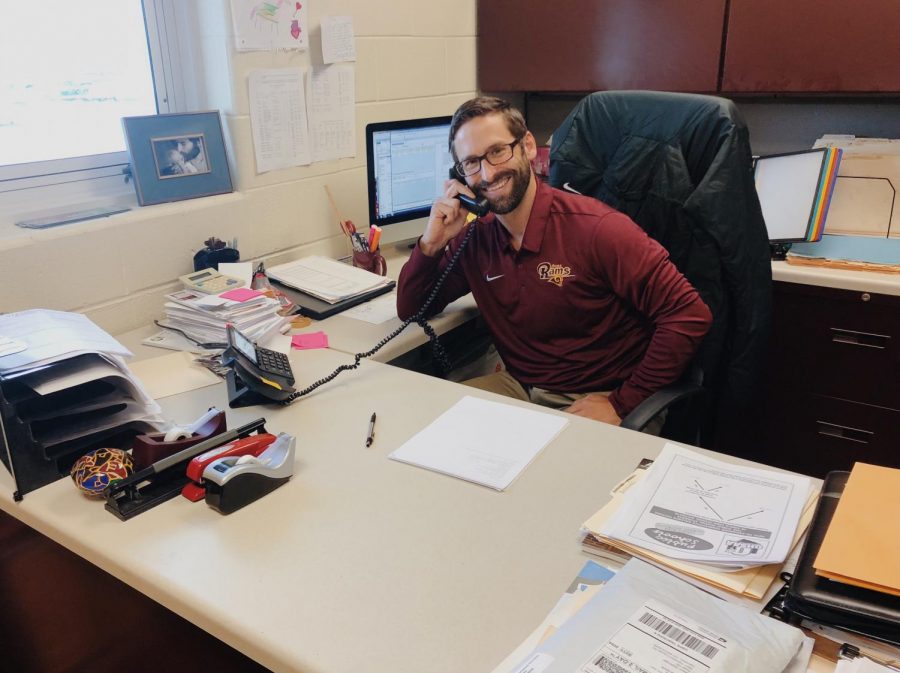 With Mr. Jake Richards' recent position change to athletic director, his everyday life has changed drastically. The Ross High Times joined him for a look into his Thursday workday on Oct. 11.
As athletic director, Richards has many tasks to complete, and these tasks vary each day. His job can be very random and chaotic but also rewarding.
7:45am – Richards arrives to his office to start his day.
"I had to check out emails, I had to see who called already… I had to reconcile the gate boxes; so I count the money, match it up to the tickets sold, and fill out the form for that in order to make a bank deposit later," said Richards.
"I would have likely checked to see if some athletic requisitions had gone through to see if we could make purchases that we needed to make for the winter season," Richards continued.
8:45am – Richards goes to unlock the soccer fields to allow a parent to paint ramheads on the pavement.
On his way to RMS, Richards responds to some athletic-related text messages.
9:00am to 10:30am – Richards has a weekly athletic department meeting at RMS with Assistant Athletic Director, Mr. Jason Rettinger, and Athletic Department Secretary, Mrs. Megan Minges-Hoock.
Richards stated, "I would describe it [the meeting] as an athletic department planning meeting."
10:40am – Richards is back at his office in RHS.
Returning to his desk, Richards calls the Butler County Board of Elections regarding the poll-working athletes.
10:50am – Richards works to reschedule fall sports' awards night due to Election Day.
"What a lot of people don't realize is that one scheduling conflict, whether it be transportation or the teams participating or the facilities… has a domino effect in the world of athletics," said Richards.
11:03am – Richards calls Varsity Head Football Coach, Mr. Kenyon Commins, to discuss a football game schedule and transportation.
He multitasks on the phone with Commins while typing their plan.
Richards said, "It [multitasking] is mission critical. Without the ability to multitask, I would, number one, lose my sanity and, number two, lose control over all the activity that occurs in the athletic department. And without coffee, I'd really be sunk. Without coffee, I'd be lost."
11:10am to 11:34am – Richards meets with Bowling Coach, Mr. Ed Roberts. They discuss the schedule among other things.
11:35 to 12:35pm – Minges-Hoock and Richards meet to discuss competitive balance.
Richards said, "I agree with competitive balance… it creates a standard system for accounting for the actual student athletes who play sports in high schools in Ohio… It counts students in a way that levels that 'playing field.'"
12:35pm to 2:10pm – Richards catches up with messages he missed throughout the day.
Richards said, "I sent a lot of emails and made a lot of phone calls… I was starting to look ahead at eligibility for after second quarter. I put in some requisitions for purchases… [There was] a lot of communication and prepping for the gate boxes for the soccer game and prepping for Friday morning."
5:00pm – There was a JV Boys' soccer game, and Richards got there at halftime to oversee things and cheer for the players.
"We've got event managers… so they're more of the hands-on at the actual contest…
If I'm able to, I go over and help because it's a good time to talk about what's going on in athletics," said Richards.
10:00pm – Richards leaves RHS to go home to his family.
Even with all the craziness, Richards loves his job and wouldn't change a thing.
Richards stated, "The job is chaotic at times, but it's very rewarding to know that the kids playing sports at Ross are learning more about themselves and the people around them every single day."
Richards continued, "Now that I'm doing this job, I don't think I'd do another one [job] because I do thoroughly enjoy it… I got into this whole world of teaching and coaching to help kids be better versions of themselves."
About the Contributor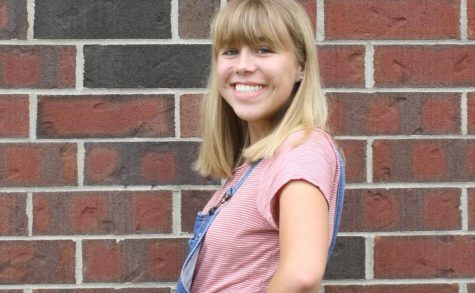 Katie Ledford, Features & Multimedia Editor
Katie is a senior in her third year of journalism and she's an editor. She likes running, and she's the Varsity Girls' Team Captain on the cross country team. She's also the president of NHS and VAB. After high school, she plans on leading Young Life and attending college for a major in math education and a minor in Spanish.