Falling into Fall Fashion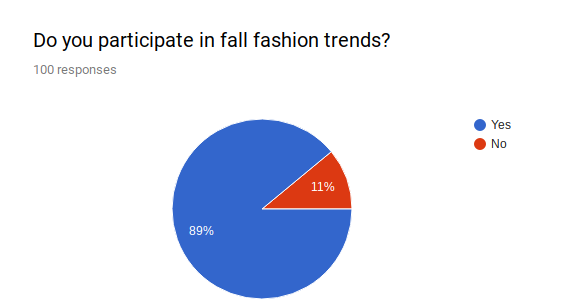 There has been a buzzing excitement for the fall weather from anticipating the chilly weather to more comfortable clothes and trends. Staying warm can also mean staying stylish.
Fall seems to be a lot of students' favorite season to dress for.
In a recent survey taken by 100 RHS students, 84% of students said that they enjoy fall fashion more than other seasons.
Megan Gentry, junior, said, "My favorite fall clothing is definitely cabin socks. They are so warm and, I mean, everyone's feet get cold in the fall and winter, so cabin socks are just a cute way of preventing that."
The weather forces most to put on more layers, but with clothing becoming more trendy, it can be fun to go outside of your comfort zone and try something new.
Senior Whitley Arno said, "The weather is just so cold I want to bundle up. I think I am going to be wearing a lot of turtle necks because they are coming back into style this year and they are comfy. I just bought a couple that I am gonna wear so much."
Fall fashion doesn't apply just to girls. Men also participate in fall fashion with warmer clothes that they like better than other seasons.
"I like flannels. I have this one flannel that is like a jacket and it's pretty warm. I usually just wear jeans and my flannel in the fall which I enjoy." said junior Tyler Hoover.
Senior Steven Knebel said, "I enjoy fall more than most seasons and usually the trends of fall more just because it's a change of pace. I start wearing flannels, quarter zips or sweatpants more in the fall and I always look forward to that."
There is a whole wardrobe change for trendy fall clothes that RHS students voted that were must-haves for this fall season. The top ten trends of fall according to the RHS survey are:
Sweatshirts- 87.8%
Leggings- 83.7%
Sweaters- 81.6%
Cabin socks- 76.5%
Flannels- 70.4%
Sweatpants- 68.4%
Blanket scarfs- 63.3%
L.L. Bean boots- 50.3%
Riding boots- 42.8%
Quarter zip- 40.8%
The trends are here, and students are thriving in some extra layers. Keep warm this fall with some cute and trendy fall fashion. You know RHS students will. You can get these fall trends at most local stores or online.