Fall Sports recap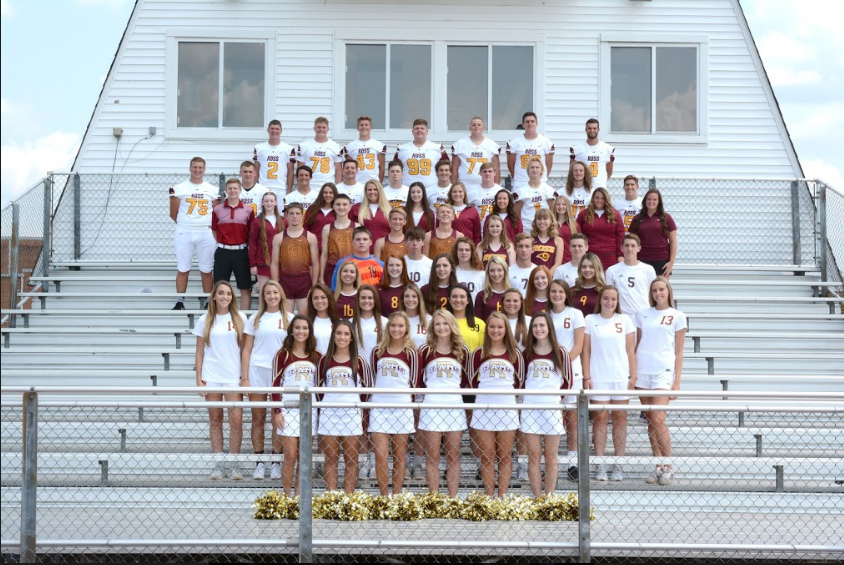 The RHS fall sports teams have given a great effort to sit in the third place spot for the all sports award, scoring 44.5 points with boys cross country and girls tennis leading the way with SWOC championships.
Boys Cross Country
Senior Steven Knebel led the charge this season with a personal record of 16:48 at the Harrison Invitational. This helped the boys cross country team return from the SWOC championship with the trophy. This is only the third time in school history that the boys cross country team has won the SWOC and they had a first year head coach, Mr. Mychal Feuchter.
Feuchter said, "There is no doubt in my mind Ross will become a school that fights for a regional spot consistently, and with that, winning SWOC would be almost second nature."
Girls Cross Country
The girls cross country team had a season plagued with injuries which is why they placed fifth in SWOC, but that didn't stop them from cheering on the boys team with signs and music.
"It was really uplifting having all of that support from them during races. It really gave a family feel even after the season was over," said Knebel.
Girls Tennis
The girls tennis team had many reasons to remember their great season, but Head Coach Mrs. Gerri Bolin, had one in mind specifically.
"The highlight of the season definitely was finishing as SWOC Co-Champs. We finished 2nd in the league, going 5-1 with our only league loss to Edgewood. With Edgewood winning the regular season, they seemed to be a lock-up to win the tournament and take the championship. With our total team effort and outstanding match play in the tournament, we were tied with Edgewood going into the final match. Our second doubles team, [seniors] Anna Bagley and Katelyn Rousch, were playing Edgewood with Edgewood up 4-3 in the 3rd set when the lights went out. When the lights came back on, Anna and Katelyn came out on fire, winning three games in a row, winning the 3rd and decisive set 6-4 giving us the tournament championship and ultimately finishing as SWOC Co-Champs," said Bolin.
Soccer
Both boys and girls soccer placed second in SWOC with two very tough teams ahead of them, but both races were closer than the eye tells. Girls Head Coach Mrs. Jessica Buehner still enjoyed her first year coaching at RHS and learned a lot from her experiences.
Buehner said, "I am extremely proud of the girls and how they came together, but I am disappointed that some goals did not go our way. I like to tell them that 'they didn't lose, they just ran out of time.'  I know there is a learning curve when a new coach is introduced. I commend the girls for how open they were to accepting me, quirks and all."
Girls Volleyball
The girls volleyball team came in a charitable third place spot within the SWOC, but their season wasn't only about winning and losing. They had many outings for their games, but one in particular stuck with the girls.
"Our community service game for Ross' police chief (Mr. Darryl Haussler) was probably the highlight of our season because he was there and it was for fundraising so he could get a kidney transplant," said Senior Emma Stidd.
Boys and Girls Golf
Boys and Girls golf both had respectable seasons with the boys placing third and the girls placing seventh within the SWOC. The boys golf team is only losing one senior, so they will bounce back next year even stronger than this year.
Senior Tyler Stenger said, "The whole season was a highlight with how well we did. We had a solid team, won a lot of matches, and the matches we didn't win were always close."
Football
The football team is following into suit, and improvements are being made from going 1-9 to a respectable 5-5 in one year is incredible. Mr. Kenyon Commins, dean of students and varsity head football coach, had one goal for the team and it had nothing to do with football.
"To be better tomorrow than we are today, on and on and on.  If we did that, we knew we could get to where we want to be. Goals are great, but they also allow you to lose focus on daily routines and lose sight of what really matters. Every team wants to be Conference Champs, make the playoffs, and win a State Championship. Those will always be our goals, but if we focus each day on getting better than we were the day prior (Win The Day) we will achieve our goals a lot sooner than we think we can," said Commins.
The fall sports teams may have been successful, but I believe they will become more successful within life from all the lessons that were taught and the hard work that was put in. The winter sports season has begun, so get out and cheer on your Rams as they continue the quest for the All Sports Award.
About the Writer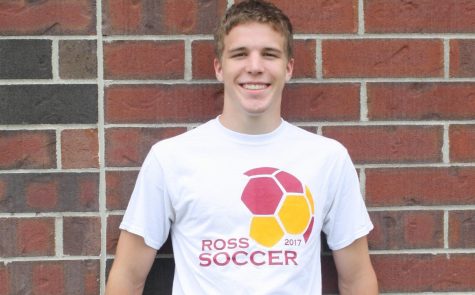 Brayden Ploehs, Staff Writer
Brayden Ploehs is a senior at Ross High School and this is his second year of journalism. Brayden enjoys participating in sports such as Cross Country and Wrestling. He plans on going to the University of Cincinnati for a degree in engineering.