Glenn Edward "Bo" Schembechler Jr.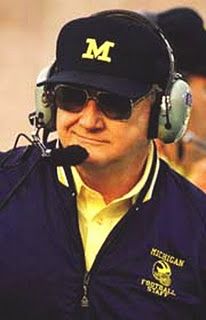 Jacob Butzin, Student Contribution
January 9, 2019
Hang on for a minute...we're trying to find some more stories you might like.
Glenn Edward "Bo" Schembechler Jr. is one of the greatest coaches in Michigan football history. Schembechler's tenure at Michigan lasted 21 seasons, from 1969 to 1989, as Michigan's fifteenth head coach. "Those who stay will be champions." this was Schembechler's famous slogan. This slogan is still tradition at Michigan to this day. It shows that whoever goes through tough practices, gets conditioned, and plays as a team, they will be champions. "We want the Big Ten championship and we're gonna win it as a team. No man is more important than the team, no coach is more important than the team, the team, the team, the team:" This is what Schembechler preached. He preached that no individual makes the team, multiple people do. Although, during his tenure he never won a national championship, Schembechler was a juggernaut in the Big Ten. Schembechler went 143-24-5 overall in the Big Ten during his time at Michigan. He totaled 13 conference championships either won or shared. Also, he led them to 17 bowl games. Schembechler went undefeated in five of his 21 seasons. Even though he never won the biggest game in college football, he still did many amazing things. The most important game that Michigan waits for all season is THE GAME: Michigan vs. Ohio State. Schembechler went 11-9-1 overall against that team down south. His objective for the whole season was to beat Ohio State; these schools hate each other. The biggest time of the rivalry was from 1969 (Bo's first season) until 1978, known as the Ten-Year War. It was Woody Hayes of Ohio State versus Bo Schembechler of Michigan in a teacher versus student battle. Schembechler played college football at Miami University of Ohio and was coached by Woody Hayes. Since Schembechler played under Hayes, he coached against him in the greatest rivalry of all-time in college football. The Ten-Year War seemed even more amazing with these two head coaches involved. Schembechler took over a program that wasn't getting better and turned them into a powerhouse, the way Michigan football is supposed to be. Schembechler made sure that every player, every coach, every fan, or anyone involved with Michigan football, made everything about the team. "The team, the team, the team." Schembechler will be viewed at as one of the best, will be referred to as one of the best, will forever be the best coach at the University of Michigan, and arguably the best coach in college football history. As Schembechler always said, "Those who stay will be champions."
-Glenn Edward "Bo" Schembechler Jr.