Not Too Cool to Dance: Legacy Hosts First Competition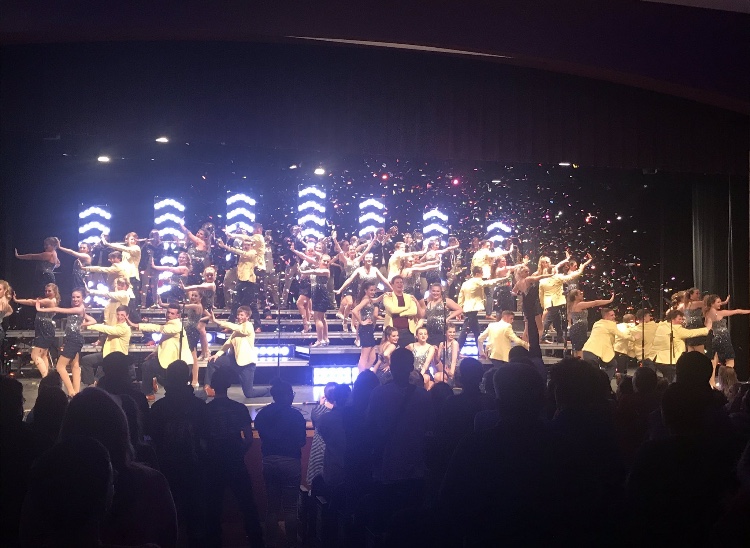 Show choir. A source of teaching one to be a better person, to always keep your chin up, and always have that inner smile going. A source of family hidden behind the choir doors.
Some of the most beautiful moments are found within the pages of a song. They're even more beautiful when these moments are surrounded by a team. A group that loves one another, cares about one another and fights for one another.
Ross Legacy has had moments worth remembering this year, but with some of these moments came setbacks. These setbacks were not barriers though, they were reminders that Legacy is a close-knit group that lean on each other.
"We've definitely had some challenges this year: our director being out for surgery for a month and our assistant director having to step down definitely set us back. But I think we all wanted to prove that our success last year wasn't a fluke and [we] all kept working to show that Legacy is still one of the best," said senior Claire Timme.
Legacy had a slow start to the season as their first two competitions were cancelled due to weather conditions. The group had to find their momentum again to get them going in the right direction.
Now, as the season is coming to a close, they are all grasping onto every moment like it's their last, especially the seniors.
Senior Sam Quick said, "Show choir has taught me to work hard and to always keep pushing forward. It means the world to me and I wouldn't trade my show choir family for the world. There's nothing like competition season and it makes it all really special."
Timme added on and said, "I am so glad that I got to be a part of Legacy. We have come so, so far since my freshman year and I can't wait to see where this group will go. I'm happy that I will always get to say that I was the beginning of the Legacy."
In case you didn't know, something really cool went on at RHS this past weekend: Legacy hosted the first ever Legacy Championship. So instead of Legacy competing, there were multiple other schools here to compete and Legacy was actually just hosting the event. They got to close out the night with their show that simply is amazing. Overall, it was such a fun environment to be in and was a success.
Director of Choral Activities, Sterling Finkbine, said, "We decided to host a competition because they are huge fundraisers and they do a good job at bringing awareness to our program from other communities. Competitions are massive events with impressive lightings, groups from across the country attend, and is something the students of Legacy have wanted to do for a long time. It's exciting to invite guests into our school and show off the great facilities that we have here at Ross."
The hard work and countless hours put in to the event seemed to pay off. Members were happy with the results of the Legacy Championship.
Timme said, "We [Ross] have been trying to have a competition for a while. A big reason we never had [one] until now is our school size. Ross is a lot smaller than some of the other schools that host competitions. It was so exciting to see everything come together and see the school be transformed for the competition. I think the best part was getting to have all the fun of being at a competition but not having to compete. We just got to have fun and at the end of the night, we got to perform for ourselves and our friends/families instead of the judges."
If you haven't seen the show yet, Legacy will compete at Fairfield on March 16 (time to TBD).
With a new school year fast approaching, have you thought about becoming a member of Legacy? Even if you're on the fence or worried of the unknown, I challenge you to take a chance at something that could be the best thing to happen to you.
Quick said, "Don't be afraid to try it or try something different. I did with show choir, and it was the best decision I've ever made. It's something I think everyone should experience."
"Show choir is so much more than just singing and dancing. It is hard work. I would challenge any person in this school to join this group and do what these kids do and say it's easy. It's not. But people who like a challenge and know how to grind would thrive in this. It's a culture of hard work, passion, teamwork, and it's brutal at times. But knowing you went out there in front of 3,000 people who are cheering you on and you put on an awesome show is a feeling unlike anything else you've ever felt. Legacy is the real deal – it's time we get rid of the stigma that show choir is only for a certain kind of person. Legacy is for students of all kinds – I challenge you to try it. You won't regret it," said Finkbine.
Take a risk and do something out of your comfort zone. Become a part of a group that wants you to succeed and grow. You could go from thinking show choir looks like something you want to do to being a part of a forever family. Tryouts will be held April 15 and 16 at the high school. More information will be shared through Schoology as the dates near. Don't miss out on the chance of a lifetime.
About the Writer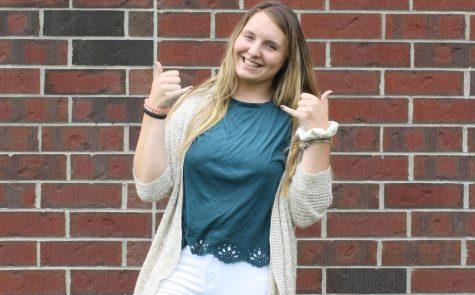 Lilly Toerner, Marketing Manager
Lilly is a senior in her third year of journalism and her second year of serving as Marketing Manager. She's the President of FCCLA, a member at large, a part of NHS, and involved in Younglife. She plans to attend college in hopes of pursuing a degree in psychology and/or writing. She's excited to see where life will take her and the adventures that await.