The Book Nook: The Perks of Being a Wallflower by Stephen Chbosky
Hang on for a minute...we're trying to find some more stories you might like.
The Perks of Being a Wallflower by Stephen Chbosky immerses the reader in the mind of Charlie, the assumed wallflower. After 213 short pages of the joys and struggles of Charlie's life, I found myself wanting more.
Through his letters to an anonymous friend, Charlie documents his first year of high school and the many lessons that come along with it. His lack of sociability results in him being an outsider. He luckily meets Sam and Patrick – seniors who befriend Charlie and help him as he discovers who he is and what he wants out of life. 
The book, ultimately a collection of Charlie's letters, invites the reader into the lives of these three friends. From family issues, to young love, and new experiences, The Perks of Being a Wallflower illustrates what it's like in the mind of a teenager. 
With the inclusion of multiple traumatic scenarios, this #1 New York Times bestseller sheds light on seldom-discussed issues such as suicide and sexual assault. While I viewed this approach as a clever outlet to portray common taboo topics that many teenagers can relate to, others found the events forced or ill-explained. 
Several reviews on goodreads.com disapproved of how trauma-filled the novel was. One review stated that the novel is an, ". . .emotionally manipulative narrative," and the situations Charlie witnessed or experienced were included solely to make the reader cry. I, however, think Charlie would not be the character he is without these situations. 
With a nearly-perfect rating of the book, Luke Demeropolis, RHS Alumni and current employee, enjoyed the relatability of specific aspects in the novel. 
Demeropolis said, "My favorite part of the book is when [Charlie] tells the reader how he feels 'infinite' when he is with his friends Sam and Patrick. . .The feeling of infinite makes you feel unstoppable and I could relate to that."
A review from theguardian.com praised Chbosky's work and raved about the diverse group of characters and the rhythmic writing style. 
". . . although the book is, at times, very upsetting, it is ultimately uplifting and life-affirming," states, theguardian.com.
A vital aspect of the book is the relationships formed between Charlie, Sam, and Patrick. I found the contrasting characteristics between Charlie and his newfound friends complementary and beneficial to the plot. The outgoing nature of Sam and Patrick forced Charlie to step out of his comfort zone frequently, which added to the storyline. By the end of the book, you will feel like you know the characters and are a part of their lives, making you wish there was a sequel to pick up next. 
A 4.2/5 star rating from goodreads.com exhibits the overall praise towards Chbosky's work. If this coming-of-age novel piques your interest, you can purchase it at Barnes and Noble for $13.49 or Target for $8.29, borrow the book from the school media center, or check a local public library. Also, if you find yourself enjoying the book, you can watch the corresponding movie to see the story come to life.
About the Writer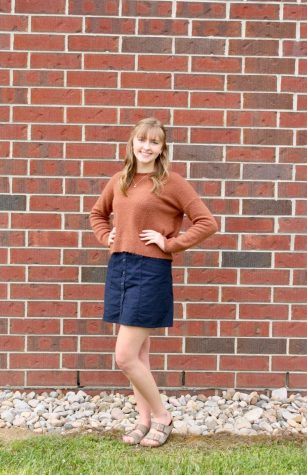 Ainsley Helling, Staff Writer and Editor
Ainsley is a senior in her second year of journalism and is a Staff Writer and Editor. Other than journalism, she is involved in NHS, VAB, The Cappies, and is a Student Body Officer. Outside of school, you can almost always find her at a nearby coffee shop with her friends. She is excited to expand her knowledge of writing and share this passion with others.