Album Review: "Fine Line" by Harry Styles
On Dec. 13, Harry Styles released his sophomore album, "Fine Line". Styles' album is a big contrast compared to his previous album that was released in 2017. From honest melodies to lighthearted lyrics, Styles' album is a welcoming whirlwind of emotions. 
This time around, Styles produced a different sound of music compared to his last album. Gaining more recognition and fame, Styles continues to grow and show he has earned the title as the rock star of our generation. His album skyrocketed to the top of the charts and earned 109 million streams in the first week, marking the largest debut of that week and the third-largest debut of the year. 
In Oct. 2019, signs saying "Do You Know Who You Are?" started popping up around the biggest cities in the world including New York City, London, and Tokyo. Fans began to recognize that this may be Styles' doing. Three days later, his first single called "Lights Up" was released, which confirmed fans' speculations as the saying appears in the lyrics of the fourth track. 
The excitement continued over the next two months when he released his two new singles "Watermelon Sugar" and "Adore You". The three singles each had differing sounds that excited fans to hear the rest of the upcoming album. 
Junior Jennifer Schwab said, "I was intrigued honestly. Even though all of [the singles] were so different, I loved them all. It definitely made me wonder what the album as a whole was going to sound like and how different it was going to be than what his last album brought."
Previously, Styles' writing was indirect and left for interpretation. However, now with more confidence than ever seen before with Styles, this album is the most honest yet. His lyrics have become candid and more personal, and because of this, fans have grown so much closer to the singer. 
Schwab said, "The song I feel most connected to is 'Fine Line'. I love the message he has with 'We'll be alright' and every time I need a pick me up, I always feel better!"
Songs like "Falling", "She", "To Be So Lonely", "Cherry", and "Fine Line" are the most truthful songs you will find on the album. In the song "Cherry" there is even a voicemail from his ex-girlfriend, Camille Rowe. Yet, other songs like "Golden", "Watermelon Sugar", "Adore You", "Lights Up", "Canyon Moon", and "Sunflower Vol. 6" are still honest, but they are left for more interpretation. However, "Treat People With Kindness" is the one song that doesn't fit in those two categories as the song is a representation of Styles' motto and what he stands for, telling fans "maybe we can find a place to feel good and treat people with kindness". 
Each song has a unique sound that differs from the others. This is making fans more excited to see Styles live on his upcoming tour, "Love On Tour", that begins in April of this year. But previously, I got the lucky chance to experience the magic of "Harry Styles: Live On Tour" in Indianapolis on June 27, 2018. 
The floor and seats of the arena were covered in screaming fans awaiting to see Styles on stage. After the opening act, Styles waited a near 20 minutes before making his appearance. The stage screen lifted and lights shone through from behind the screen, revealing the star himself. I remember becoming a part of the crowd full of crying girls and becoming overwhelmed with emotions. I remember feeling like time had stopped and I was immersed in happiness. During the concert, I laughed, I cried, and I smiled so hard until my cheeks hurt. Styles danced his way around the 360 degree stage, making sure to make everyone feel seen. He even took time out of the show to stop and talk with the crowd for nearly 20 minutes. Styles seemed to grab the attention of every person in the arena, including me. 
You can listen to his recent album on Spotify or Apple Music, and you can buy the album for $9.37 on Amazon. You can also purchase tickets for his upcoming "Love On Tour" on Ticketmaster. 
Leave a Comment
About the Contributor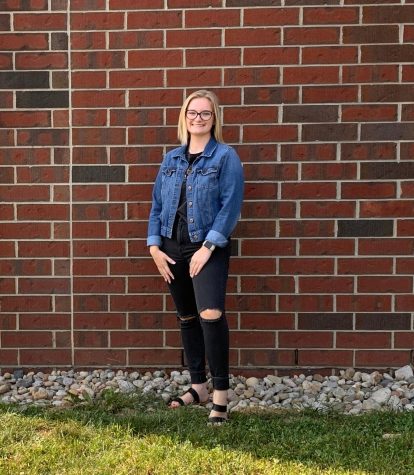 Ashley Caudill, Staff Writer and Editor
Ashley is a senior and in her second year of journalism. She is a Staff Writer and Editor. Outside of school, she enjoys reading and writing and will be attending college next fall for journalism. She loves to spend time with family and friends and traveling to new places. She is excited to be back in journalism and is excited to continue her education with journalism in the future.