A Youthful Start
Young artists are taking the internet by storm with their fiery confidence.
Many may agree that the influx of openness of one's feelings on social media has left a vast majority of high schoolers with a sort of confidence. Using that they come out and share their stories, mainly in their expression of art.
I myself had the chance to meet lots of independent artists at a comic con in Columbus, OH. Each one greeted me with a smile that drew me in. The room was filled with a crackling energy that sent waves through each stall as you gazed at all the unique artwork either printed or displayed in keychains and even sketchbooks. 
Most artists use conventions as a way to display their passion, and possibly sell their work to others who fall in love. 
While conversing with fellow booth owners, I noticed they each had a social media account for others to follow. Using the internet can be the key to starting one's career as an independent artist. 
Artist Gawki explained to me that her main way of putting herself out there was to attend art shows, conventions, or posting on her social media accounts such as Instagram. 
"Having a theme that you can present is helpful," stated Gawki.
Having the chance to not only speak to such a unique person but to hear her view on things was interesting. 
Each artist has their own vibe to their work or just in general. Finding that within yourself at high school age can give you a boost to do things you never had the chance to do.
When you're in high school, it's easy to be flushed out by all the other teenagers who have the natural ability to stand out. But it may surprise you when they become entranced by your ability to create something beautiful with your own hands.
Over the years, many high schools have changed to be more open and accepting of originally unacceptable terms or phrases. 
When asked for her opinion on what it takes to overcome harsh judgment, Artist Shawn Russell stated, "Having the courage to make what you enjoy vs. what society expects."
Not only does it take a lot of courage to push past any harsh comments on your art, but it also makes you stronger. Only you can create something unique to you.
"The way you make your marks is you, people will come to you for your uniqueness," stated Russell. 
When speaking to her, I could feel her passion and sincerity in each word, sending a shiver down my spine. 
People aren't drawn in by something they see every day, so standing out and being brave can do a lot more than giving yourself a confidence boost. It can help others see that they are not alone. 
Having style isn't all about testing things out, it's also how you feel about what you create. 
"Style is innate, it's a journey," stated Russell.
You can't just be good straight off the page. Sure having a natural talent helps but you can't get far for not working hard.
Being unique and strong draws people in, and not doing anything to improve won't work. It's a journey. Finding your style and what you're comfortable with, all counts in the end. 
Leave a Comment
About the Contributor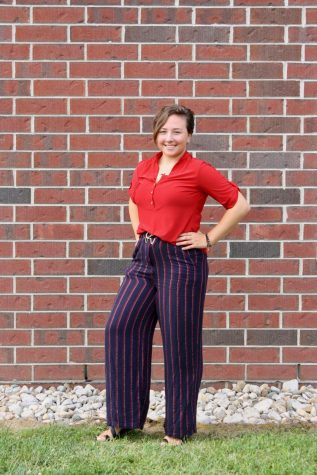 Anna McDonald, Staff Writer
Anna is a junior in her first year of journalism. She spends most of her time participating in Art Club, Earth Club, and the swim team. She also enjoys reading, creating art, and writing stories she plans on turning into books one day.