Get to Know RHS' Athletic Trainer
For those who do not involve themselves in sports, or have never had to go see the trainer in high school, Khari Curry is Ross High School's Athletic Trainer. Khari started his tenure at RHS around Aug. of 2017.
Curry was not used to the rural town of Ross when he first started this journey.
"I definitely knew it was going to be interesting. You guys are into lots of other stuff like dirt bikes etc. It definitely helped me get up to the standard that Alex set before me. But I loved it, you guys definitely welcomed me with open arms," stated Curry.
When Khari first started it was the fall sports season. I asked what his favorite sport is.
Curry said, "I played football, so that's my favorite to play. To cover I won't say because I love covering all sports."
Khari is very passionate about his career and is encouraging young people to look into the profession.
"It is actually a really fun career. To work with all different types of athletes is amazing, and I get to put my own personal twist on certain things which is really nice. I would say study hard and stick with it and I promise it'll be worth it in the end," Khari said.
To be an athletic trainer you need a bachelor's degree in athletic training, exercise science, or related areas, according to sports-management-degrees.com.
With the increase in athletic training classes, it's easier than ever to see what Kharis job would be like and to see if it interests you.
Curry stated, "I think the new classes are awesome and i think they're going to help keep the interest in the career because they definitely helped me find myself as a person. So I think they're going to be great."
Khari is a very talented and caring individual that loves to help people and make sure everyone is safe while participating in their sport, or interest, even if that means hunting you down in his ATV in the middle of a football practice. Kharis office is located in the Athletic Hallway with the blue, white and yellow door.
Leave a Comment
About the Contributor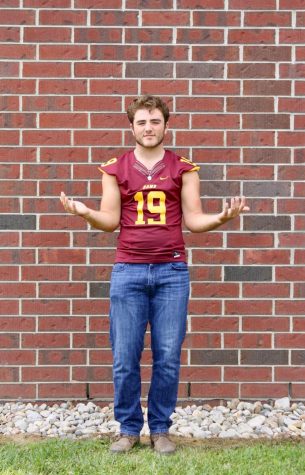 Tanner Meale, Staff Writer and Advertising Manager
Tanner is a junior in his second year of journalism as Advertising Manager and Staff Writer. He plays Varsity Football and enjoys working out, spending time with friends and family, and doing anything sports related. He hopes to play football at the University of Michigan after high school.