Opinion: Lay it Down at the Crown
Life can change in the blink of an eye– or in our case, overnight. I don't really think any of us saw this coming. But I think we can all agree that we need a cure. A hero. Something to put our hope in, in what feels like a hopeless time. We need Jesus Christ. 
It's very easy to fall into a season of worry. So many things are uncertain in our lives right now. When will we be allowed to hang out with friends again? Will it affect my grandparents? 
In Matthew chapter 6 verse 34 God says, "Don't worry about tomorrow, tomorrow will worry about itself. Each day has enough trouble on its own." It's hard to not get caught up in the 'what if's', but God is asking us to just trust in him that he will work it out.
Philippians 4:19 says, "My God will meet all your needs according to the glorious riches of Jesus Christ." So although it may seem like we are having a rug swept out from under our feet, God is still going to give us what we need. Be careful though, what we think we need and what we really need may not be the same things, but God will be the one who decides that. 
It's also important to know that God is right here with us. 
Isaiah 41:10 says, "So do not fear, for I am with you; do not be dismayed, for I am your God. I will strengthen you and help you; I will uphold you with my righteous right hand." If you are feeling like God isn't making an appearance in your life, I encourage you to listen to the song Waymaker by Michael W. Smith. This is my go-to for when I feel like there's no way out.
Ephesians 6:11 talks about putting on the "full armor of God" so we can stand against the "schemes of the devil". With God, we can withstand anything. We forget that our God created everything we know and even raised his son from the dead. 
Oftentimes we feel like we are fighting our battles alone, and we ask God to deliver us from them, then get discouraged when that doesn't happen. What we are missing is that God is here, waiting for us to invite him into the storm with us. There's a story in the Bible about three teenage boys who refused to bow down and worship the idol of Babylon. Because of this, King Nebuchadnezzar threw them in a fiery furnace. However, the boys did not die. In fact, when the guards looked in the furnace they saw a fourth person; that person was Jesus. See, God is more than willing to come into the fire with us, for we are his children, but he wants us to ask him to come with us.
I am well aware that all of these things are not as simple as they may seem, but they become easier the more you pray about them. 
Philippians 4:6 says, "Do not worry about anything, instead pray about everything." When I start to worry, I try to turn those negative thoughts into a prayer. I find that it helps to talk to God about it.
In 1 Peter 5:7 the Bible says, "Cast all your worry on him because he cares for you." God is always listening to us even if it's complaining. If we are going to struggle, God wants us to struggle with him. In Matthew 11:28-30 God says, "Come to me, all you who are weary and burdened, and I will give you rest."
I know it's tough right now. I know it seems crazy for me to ask you to put your faith in something you can't see. But I know this for a fact: there is nothing too powerful for our God for the creation cannot overpower the creator.  
About the Contributor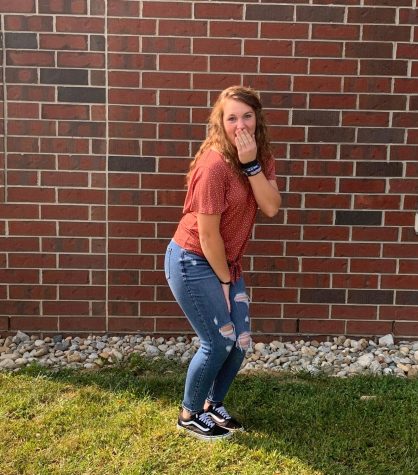 Gracie Elliott, Staff Writer
Gracie is a junior and in her second year of journalism as a Staff Writer, Marketing and Podcast Manager. Outside of school you can usually find her playing softball, making funny videos with her family, or at youth group. Gracie is unsure what career she will pursue because she has so many different passions, although she knows wherever she ends up is where she's meant to be. Gracie lives life one day at a time and tries to be a light for all of those around her.