Madness Behind The Music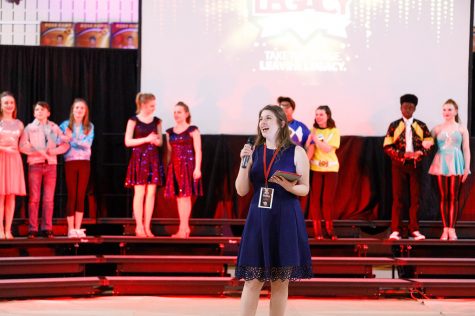 Students from schools near and far crowd the PAC while adults scramble to find seats of their own. Smells of sweat, hairspray, and hot breath seem to take over. In every direction you find someone singing, dancing, and sometimes even sleeping. Welcome to the RHS Legacy Championship. 
Every year our very own Ross High School Legacy hosts a competition in February; high school show choirs from all over Ohio come together to compete for the title of grand champ. For the show choir kids and directors, show choir season is the most looked forward to part of every school year. 
"At comps, there's a lot of different things to do but my favorite thing to do by far has to be meeting new people all from different schools. Everyone is there for the same reason so it's like everyone already has something in common with you, making it easy to make friends," Maddy Bagaly, senior and Ross Legacy singer-dancer, said. 
Show Choir may seem like a lot of fun and games, but there's much more to it. Both Ross High School and Ross Middle School work extremely hard to make sure their shows are always the best they can be in hopes of being crowned grand champs. The students involved spend roughly two or three hours multiple times a week at rehearsals singing and dancing, trying to fix even the smallest mistakes that a judge might notice. Practices are some of the hardest, and most stressful parts of show choir. 
"Rehearsal is so hard. Even though we are in middle school, and it's less competitive, everything we do is still super advanced. We practice like we're performing, so we never goof off or we'll get yelled at. It's all serious, and hard work until we perform, the fun part comes after the competitions," said Callie Jones, 8th grade RMS Next Gen member. 
 Each competition's critique gives the students a chance to improve their show for the next performance. Groups are often rated by vocals, choreography, band performance, and professionalism. Some show choir competition rankings come to one being above another, even by a half of a point, leaving performers quite frustrated.  
Sophomore Marissa Mullins, and Ross Legacy singer-dancer, said, "The hardest part of the whole thing is performing and then having to sit in awards. Every kid in that auditorium wants grand champs, but we all know at the end of it only one wins. Some of us come off stage throwing up, hyperventilating, and in bad cases, people even pass out. To have to go into awards after working so hard like that and then possibly not getting the placement we deserve is the scariest feeling." 
Every year students count down the days for show choir season to begin and look forward to the following year's auditions. Auditions take place early to mid-April over a zoom meeting for parents as well as students. Talk to any member of Legacy Showchoir for more information.. If you're looking for your forever family, Legacy is just the group for you. 
Leave a Comment