Viewing Through a Broken Mirror
Behind the drive of eating disorders, there lies an inherent human need for community, acceptance, and love. But with government stay-at-home orders in place, isolation grips those who suffer from such illnesses. 
"Isolating oneself socially exacerbates beliefs of shame, self-hate and increases the likelihood of compensatory eating disorder behaviors," states eatingdisorderhope.com. 
With our current situation, isolation has shifted from a choice to a necessity for public health. Personally, being away from others fueled my eating disorder. Therefore, I felt it was a good time to be honest about how this life-draining illness has only worked to amplify fear and control countless years of my life.
No one wakes up one day and decides, "I want to devote my life to restricting calories, obsessing over my shape, and ultimately miss out on the world around me because I'm rooted in self-loathing." Well, at least that's not how it happened for me. My disordered eating slowly choked out my breath like a poisonous gas I never knew I was in the air. 
The type A perfectionist in me always seems to magnify what I fail to achieve rather than give me credit for the good I have done. This seeped into all areas of my life. I became hyper-focused on what I should be correcting in myself. And as a teenage girl with a maturing body, I saw another inadequacy that should be fixed. 
I fled to at-home workouts and healthy eating plans I could follow in order to control my figure. That, on top of my new found love for running through cross country and track, caused the weight to shed off my frame. But I was never satisfied with what I saw nor did I see any difference. 
There was always more I could be doing; more I could restrict or control despite the various health issues this was inflicting on my body. My hair reduced to a third of its volume. I lost my menstrual cycle. Restlessness and cold chills never ceased. I would rather skip a meal with family and friends than miss my run for the day. But all this food restriction just led to binge eating and subsequently purging the excess calories by way of over-exercising, vomiting, or laxatives. It was no longer a healthy pursuit, but an idol I cherished above all else. 
And this idol was never quenched. It caused my anxious mind to spiral out of control. I knew these behaviors didn't reflect the girl I was inside. As I harshly compared myself to the women around me, I only furthered from the truth God spoke over me. Contrary to what I was believing, I was loved. I was beautiful because I was handcrafted by Him. And I had a purpose that was wildly more important than a number on a scale. 
You see, the issue was never my weight or appearance. I was viewing life through a broken mirror. And in this mirror only accusations and lies reflected back, demanding more from my life than just a smaller frame. It wasn't until I began to look in the scope of how God saw me that I experienced empowerment for the fight against disordered eating. 
Although I wish this chapter of my life was concluded, I still struggle and am working towards recovery. But I will contend because the thought of wasting my life entrenched in trying to control my body is far more terrifying than any counter-argument my brain might try to throw at me. 
So here I am; raw, honest, and vulnerable. Hoping that you join me in raging war against the lies that fill your mind- as we are especially susceptible to believing them in isolation. There is no reason to spend the rest of your days being a slave to fear when freedom has been gifted to you through Jesus Christ. 
One of my favorite television personalities, Fred Rogers, stated, "Anything that's human is mentionable, and anything that is mentionable can be more manageable. When we can talk about our feelings, they become less overwhelming, less upsetting, and less scary." 
Recovering from an eating disorder is not an easy process. But as we confront our fears, admit our struggle, and accept help on the way, the beastly voice loses grip of its power. To learn more about what can be done to battle this sickness, visit nationaleatingdisorders.com.
If you or someone you know is struggling with an eating disorder, please contact the National Eating Disorder Association at +1 (800) 931-2237. 
Leave a Comment
About the Contributor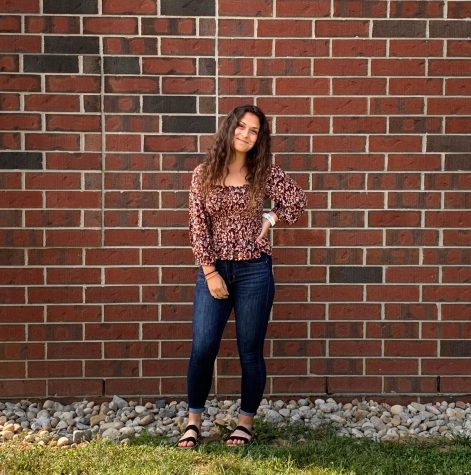 Kelley Dunn, Staff Writer and Editor
Kelley is a senior and in her second year of journalism. She runs for the track and cross country team, but outside of school activities she enjoys going on road trips and exploring the outdoors with people she loves. Although the future isn't exactly mapped out yet, her main goal is to follow Jesus and be an example of His love to others around her.