2022 Trip to Belize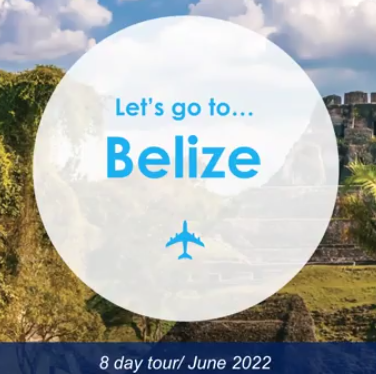 "The world is a book and those who don't travel read only one page," St. Augustine. 
If you're looking for a chance to see and experience the wonderful beauties of our world outside our community this is your chance. Ross High School is partnering with Education First for an eight trip to Belize. 
Education First (EF) is the organization that our school has partnered with to make this trip happen. Education First has been in business for fifty-five years and is not only accredited but also maintains a phenomenal reputation. 
This will be an eight-day trip. Although the exact dates have not been finalized, it will take place sometime in between May 28, 2022 and June 12, 2022. 
Cara Greco, a biology teacher at Ross High School, has attended many of these school affiliated trips and will be attending this one as well. 
Greco stated, "I think that these trips really make a life-changing impact on students. Students will return from these trips changed! It really opens up a person's eyes to see where and how other people live in our beautiful world. It allows students to immerse themselves right into another culture and way of living." 
Ross alumni Megan Foster also spoke on her experience with international travel. 
"It's very unique and fun. It makes you a more independent person especially since you're not with your parents," stated Foster.
Some of the places that students will get to visit include: Belize City, Belmopan Region, Punta Gorda, and Tobacco Cave. 
During this trip, students will have the opportunity to not only see the beautiful sights of Belize but also participate in hands-on activities. This trip is more focused on the application of STEM (science, technology, engineering, and math) in our daily lives. Some activities may include, cleaning up trash on the beach, visiting a marine field station, and working with scientists and experts. 
Other fun activities might include zip lining through the canopies of the rainforest, snorkeling in the reefs, learning about the culture, and interacting with the people.
Besides getting to speak with the native people, students will also have the opportunity to connect with their peers on the trip that they might not otherwise spend time with. Typically, schools are paired together as well so students can also get to know and talk with students from other schools around the country too. These trips are responsible for many lifelong friendships. 
The trip as a whole is priced at $3,975 but there are payment plans that are included. The monthly plan is $229 a month, and the biweekly plan is $114.50 every two weeks. There are also scholarships that you can apply for to bring the cost of the trip down as well. 
EF has also included a risk-free enrollment period which allows you to cancel your enrollment by May 1, 2021 and receive a full refund. 
There are only thirteen spots guaranteed so make sure you sign up now!
For questions contact Cara Greco ([email protected]), Brain Streng ([email protected]), or Kyle Jones ([email protected]).
Leave a Comment