Christmas Lights
After a rough 2020, the year has almost come to an end. Christmas is finally here bringing cheer and love.With COVID-19 closing down many places and putting restrictions on where we go and when, the annual christmas lights are here.
Christmas lights are a fun and cool way to spend time with your family and friends. This year there are many new lights being presented in Ohio, including some in Hamilton.
One of the light shows included Pyramid Hill, Hamilton Ohio. This light show is free to those who reside in Hamilton, but only on Tuesdays. Every other day it will cost you up to 20 dollars to get in. This light display is a drive through. The light display is about two miles long to complete the whole attraction.
Cincinnati Magazine said that, "Happily, Pyramid Hill's annual holiday lights display is not only continuing for 2020, it promises to be better than ever. In 2018, Pyramid Hill teamed up with Brave Berlin, the masterminds behind Cincinnati's BLINK festival, and the result was pure magic. This creative collaboration took Holiday Lights on the Hill to the next level, with bespoke light and sound projections that made for a sublime sensory experience."
As tradition,Cincinnati Zoo is still doing their annual lights. Except this year you have to make a reservation to be able to experience the lights. The lights`run from all around the zoo, and a total of four million lights.
Molli Havlin stated that, "One section of the lights was all purple down by where the hippos and meerkats are. The lights were really pretty."
A free choice of lights is the Christmas Cave. The cave is located in Minford,Ohio, but worth the drive. This Christmas Cave allows you to walk through and see a lot  of scenery. The cave is an old mine and you get to discover the depth of it. Throughout the cave there are 16 scenes from the bible displayed. If you are a follower of christ, this would be a great christmas light display to attend with your family and friends.
Sabrina Harris said that, "My favorite part about the cave is that it went through stages of how god did what he did for us, and it explains the steps and what each place is.
Christmas is said to be the best time of the year. Three light attractions in the Cincinnati area are a great way to spend time with family and friends this year while being safe.
About the Writer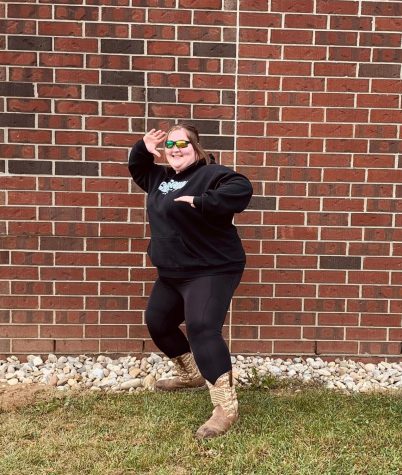 Lisa Brandenburg, Staff Writer
Lisa is a senior, and this is her 2nd year in journalism as a staff writer. She has also been in FFA for 4 years. Lisa has served as the RossFFA/BT chapter secretary for 2 years. Lisa loves writing about farming. One interesting thing about her is she loves haunted houses. In her free time she is either working with her dad or hanging out with friends. Lisa plans on going to Wilmington College for Criminal justice and serving in the military.