Album Review: "Folklore" and "Evermore" by Taylor Swift
Taylor Swift has released her eighth and ninth studio records in just the short span of five months. The two number one records are sister albums with ever continuing storylines that immerse you into multiple enchanting stories. From "Folklore" to "Evermore", Swift has created a wonderland of soft toned rhythms and dreamy melodies. 
On July 24, 2020, Swift released her eighth album titled "Folklore." The album was announced the night before the release, sending the world into utter shock as they anticipated the morning.
"Folklore" features 16 tracks along with a bonus track titled "the lakes". The genre of the album immediately sticks out compared to Swift's previous albums that leaned towards the pop genre and electric and distinct beats. Now, the tone is softened and leans towards folk and indie. For example, "mirrorball", "seven", and "august" are just a few of the tracks that feature the soft vocals and dreamy lyrics that make you feel as if you are in the song itself. The most relevant and striking song on the album is titled "epiphany", which compares a war battle to the 2020 pandemic and the struggles that come along with the difficult times. "epiphany" features chilling instrumentals and the line, "Holds your hand through plastic now, 'Doc, I think she's crashing out.'".
Fans didn't have plenty of time to settle with Swift's eighth record before she dropped her ninth record on Dec. 11, 2020. The album is the continuation of "Folklore" which is titled "Evermore" that features 15 songs. The album has similar tones to it's sister with soft melodies, but is filled with slightly more upbeat tracks. "gold rush", "ivy", and "long story short" are some of the upbeat tracks, but are still filled with the soothing vocals that Swift has packed the two albums with. 
The albums rose conversation amongst the changes that Swift has made to her writing and producing with her music. The biggest change that Swift had made was the writing styles. Switching from diary-style writing, the songs were now formatted and written in a storytelling style which made the album all the more appealing to listeners. 
In a recent interview with Apple Music's Zane Lowe, Swift stated, "There was a point that I got to as a writer who only wrote very diaristic songs that I felt it was unsustainable for my future moving forward."
Instead of Swift's songs mostly containing lyrics connected to her own love life, some of the songs are uniquely divided into separate storylines that are not directly related to Swift at all. From "Folklore", Tracks "Cardigan" and "Illicit Affairs" deal with a couple involved in an affair and the struggles that come along with the secret relationship. Also from "Folklore", tracks "the last great american dynasty" and "betty" both follow Swift's previous home owner, Rebekah Harkness, who was an American composer and philanthropist. 
Swift also stated, "I think that when I put out 'Folklore', I felt like if I can do this thing where I get to create characters in this mythological American town or wherever I imagine them, and I can reflect my own emotions onto what I think they might be feeling and I can create stories and characters and arcs, I don't have to have it feel like when I put out an album I'm just giving tabloids ammunition and stuff."
Fan speculations have also shown that they believe that the two albums are not the end, and believe that there will be a third album to add to the duology. 
With all that 2020 had brought the world, Swift managed to release two albums that brought joy and excitement to her fans, as well as people around the globe, during these difficult times. The two albums encased stories about love, tragedy, hometown romances, and more that were delivered in delicate tones and beautifully complex lyrics that brought a new world to Swift's music. 
As fans wait out for the speculated third edition to the duo, many have "Folklore" and "Evermore" on repeat. If you're looking to join the hype, you can stream the albums on Spotify or Apple Music, or you can purchase the album on iTunes or taylorswift.com.
Leave a Comment
About the Contributor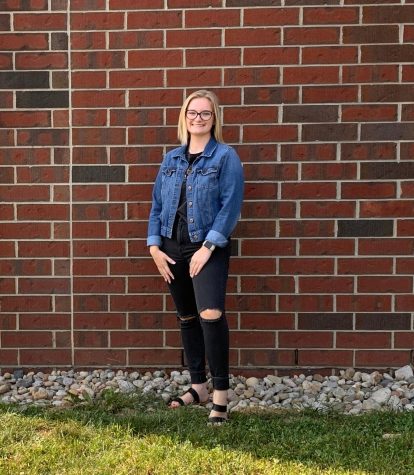 Ashley Caudill, Staff Writer and Editor
Ashley is a senior and in her second year of journalism. She is a Staff Writer and Editor. Outside of school, she enjoys reading and writing and will be attending college next fall for journalism. She loves to spend time with family and friends and traveling to new places. She is excited to be back in journalism and is excited to continue her education with journalism in the future.