Ross Captures First Ever Girls Swimming and Diving Championship
History was made at the 2021 SWOC Championship for the girl's swimming and diving team as Ross and head Coach Joe Stewart broke Talawanda's eight year reign and were crowned the champions.
Stewart stated, "Lots of decisions were put in with different coaches, and different lineups to see the strengths of all of our swimmers and it paid off in the end." 
It did end up paying off as Ross won five events and earned a personal school record in the 200 medley. The swimmers apart of that relay were Anabelle Smith, Lauren Uhl, Amelia Dennis and Savannah Mueller, earning a new time of 1:58. 
Senior captain Carissa Gipson stated, "This year wasn't easy by any means, but we got past the obstacles and practiced everyday to pull it off."
The swim team practices everyday from 2:30-4:00 Monday through Friday at LA Fitness located at Bridgewater Falls. The team is used to having multiple lanes available to them at the Hamilton YMCA, but due to the recent pandemic they were forced to move. 
The team had only three lanes and had to work around the other members of the fitness center, so it was a challenge sometimes to get everyone into the pool for a full practice. Nevertheless, the team worked as hard as they could for the amount of time available to them. 
"So much work has been put in for us to win. It's taken me four years to finally see our progress as a team" stated Lauren Uhl, senior captain. 
This year's seniors made it very clear from day one to the underclassman that this was going to be Ross's year to win. Each and every meet the captains would say a few words before the start to get the Ram's energy pumping.
Gipson stated, " I think that the seniors pounding it into the underclassman heads for the last couple months got them to understand how bad we wanted the title and it became a very contagious feeling." 
It showed at the big meet as a lot of underclassmen stepped up to the challenge and came out gaining huge points for the team. The seniors became huge role models for the younger athletes. 
"It's such an honor to be someone to look up to for those younger and get to have the responsibility of hyping the team up," Uhl stated.
The team's emotions were high the last few events of the meet as those events were a very crucial part to the end result. The team really got together and pushed those swimming to go harder. As the last event came to an end, the Rams had already heard of the good news. 
"My reaction was straight emotion. I had to hold back tears when I heard it. It was a very special moment!" stated Stewart. 
Stewart is a big reason why the girls won the SWOC title. He is always putting in extra time and effort, whether it's getting them extra help on a certain stroke or to making sure the underclassman has what they need to be a part of the team. 
"We would like to honor the win to Coach Joe because he deserves the win more than anyone. You bring so much passion into swimming and believe in us even if we don't believe in ourselves," stated Gipson and Uhl.
About the Writer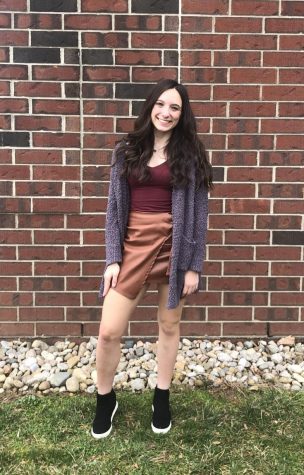 Estella Varner, Staff Writer



Estella is a sophomore in her first year of journalism. She plays high school and club soccer, dances competitively and is a part of FCCLA. Outside of school she enjoys spending time with her friends and family and going on road trips. Estella plans on going into a pre-dental program and minoring in chemistry.