Ross FFA Hosts FFA Week
FFA week is a week for FFA members to express themselves and show the school their pride. Each day of the week is a different activity for members to participate in. Ross High School's annual FFA week will be held Feb 20-27.  
Some may not know what FFA is, but most relate it to Future Farmers of America. Although a majority of FFA contains farming activities it is not all about farming.
FFA is an organization where students can learn about agriculture, plants, animals, business, mechanical and electrical subjects. FFA gives you the ability to create lifelong skills and change many people's lives. You can earn scholarships, meet new people, and learn things nobody else knows. 
Junior Connor Ogborn stated that, "FFA changed my life by giving me a chance to live a somewhat agricultural life, as I was never given the chance to do so. I met new people that had the same interests as me and it pushed us to do our best against each other. It also taught me many things including being a better public speaker, [sic] and how to use parliamentary procedure."
All the way from Alaska to the Virgin Islands and from the state of Maine to Hawaii, every FFA chapter around the world celebrates this week. This week is to show how huge the impact of FFA is on friends and family.
FFA.org stated that, "National FFA Week is a time for FFA members to host activities that raise awareness about the role FFA plays in the development of agriculture's future leaders and the importance of agricultural education. National FFA Week always runs Saturday to Saturday and encompasses Feb. 22, George Washington's birthday."
RossFFA/BT is hosting FFA week at Ross High School the last week of Feb. On the 24th Ross FFA will be holding an Old MacDonald Farm during lunch open to students and staff. There will be multiple animals, tractors, and information about FFA.
Ross FFA would love all Ross students and facilities to come and visit  and to show off all the hard work they put into the organization.
Overall FFA is a great organization to learn skills for later in life and meet new friends. When you schedule for classes next school year make sure to check FFA out. And make sure to show off your blue and gold at school.
About the Contributor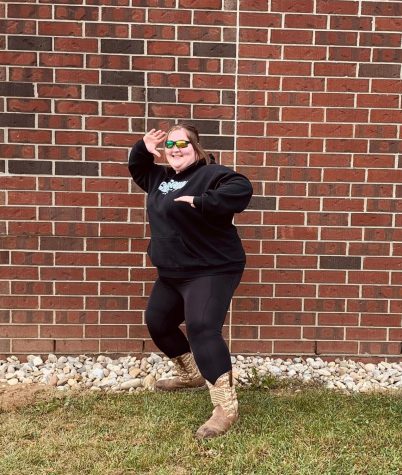 Lisa Brandenburg, Staff Writer
Lisa is a senior, and this is her 2nd year in journalism as a staff writer. She has also been in FFA for 4 years. Lisa has served as the RossFFA/BT chapter secretary for 2 years. Lisa loves writing about farming. One interesting thing about her is she loves haunted houses. In her free time she is either working with her dad or hanging out with friends. Lisa plans on going to Wilmington College for Criminal justice and serving in the military.