Staff Receive COVID Vaccine
On Feb. 4 and Feb. 25, the Ross Local Schools staff was given the opportunity to receive the Pfizer vaccine for COVID-19. 
Initially, it was presumed that Ross would be offered the vaccine in late March or early April. However, thanks to the partnership with Butler County ESC and Kroger Pharmacy, the Ross staff was able to receive the vaccine at an earlier date at Lakota West High School. 
Steve Castator, Director of Pupil Personnel at Ross Local School District, stated, "Approximately 75% of our staff signed up to receive the vaccine so roughly 235/310 total staff members. This includes teachers, support staff like custodians, secretaries, cafeteria staff, bus drivers, etc."
Many of the staff members who chose to get the vaccine recorded that it was their duty to help keep the community safe. Select RHS staff members shared their decision on why they chose to or not to receive the vaccine. 
RHS nurse Shelli Turco stated, "I believe the medical community has thrown all of their resources at fighting this virus, so I think even though it was fast, a lot of very intelligent people have put their efforts into this vaccine. I also trust the advice of some very educated medically trained people who have spoken out in support of the vaccine, and even taken it themselves."
Some are also trying to protect the community as a whole like physics teacher Michael Frankenhoff.
"The more of us that are vaccinated, the less people have it circulating, the less chance there is that a mutation will evolve that will be able to evade the vaccine and destroy all the hard work all the people across the world have done so far," Frankenhoff stated.
Of those who chose to not receive the vaccine, many were uncomfortable with it because of the uncertainty lying around the newness of the vaccine. 
One anonymous staff member stated, "I do not get the flu vaccine and this is unproven."
"I am not comfortable with the vaccine, and am taking other precautions to protect myself and others," said another anonymous staff member. 
There were also some staff that were concerned about how the vaccine could potentially affect future pregnancies. But of the staff that chose to get vaccinated, many reported that their symptoms after the first day were mild. 
RHS math teacher Amy Brossart stated, "I experienced nothing but a sore arm."
"I was very tired the next day, wanted to go home and take a nap – which I never do normally. Also a bit of a headache (which I also usually don't get) and I felt very warm although I didn't have a fever," said RHS band director Richard Roemer. 
With the upcoming second dose of the vaccine, there are rumors of how it affects people and the symptoms to follow. To help combat this, Ross Local Schools deemed the Friday after the vaccines another remote learning day to allow teachers to recover from the second dose and eliminate the concern of securing enough substitute teachers and staff. 
About the Contributor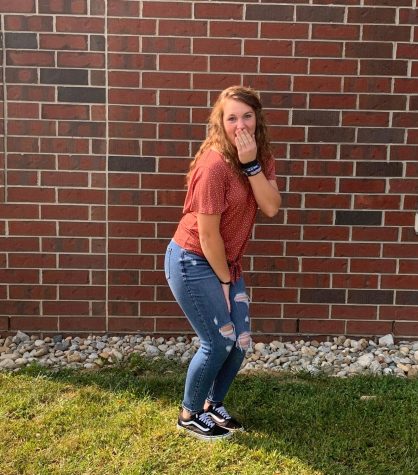 Gracie Elliott, Staff Writer and Marketing Manager
Gracie is a junior and in her second year of journalism as a Staff Writer, Marketing and Podcast Manager. Outside of school you can usually find her playing softball, making funny videos with her family, or at youth group. Gracie is unsure what career she will pursue because she has so many different passions, although she knows wherever she ends up is where she's meant to be. Gracie lives life one day at a time and tries to be a light for all of those around her.