RHS Takes the Stage: Godspell!
With 'baby walks', electrified rifts, and business suits, Ross High School's spring musical production is not one to miss. Under the guidance of Ria Collins, known to her students as 'Ms. Ria', RHS is currently producing the musical Godspell. 
Formerly known in the 1970's for its folk-rock and gospel music, our students are taking the musical on in a different light. 
Whereas the typical plot is based upon people as their lives change due to the entry of Jesus Christ, our drama students have chosen to set the scene in business attire. Defined by briefcases and angering phone calls, the people of the business world are startled when Jesus walks in with a different approach to their situation. He introduces ideas of love and friendship while also reminding His people of respect and leadership, overall sharing the Gospel of Matthew in the Bible.
Veteran-crew head and sophomore, Amanda Meyer, stated, "… the set for Godspell is definitely unique in it's own way. To carefully piece out and put together an attention grabbing set that both correlated to the musical and was safe for the cast members required teamwork and artistic ingenuity. As a crew team, everyone provided input and ideas into the making of the set. Some of our biggest projects this year include the cityscape which features a setting sky and the Roman pillars. None of this could've happened if it wasn't for the help of Mr. John, our crew supervisor and the never ending support of the cast. Please come check it out!!"
The ability to take an entire musical and shift perspective in order to portray new and fresh ideas is one worthy of praise. The amount of time that goes into each and every musical number, as well as scene change, is a large commitment. The students who put their time and energy into these productions are clear with their intentions of a grand production. Each student brings a unique style to the performance.
RHS choir director, Sterling Finkbine, was able to preview the show at the final dress rehearsal.
"I thought that they did a good job considering all of the obstacles they have had to overcome this year. You guys [the crew] did a good job at rallying and getting everything on the stage. It's obvious that you guys [the crew] really care about the show, and that you were there because you truly wanted to be there. All you [the crew] need now is an audience!"
Many of Ms. Ria's students speak from experience when they express how impactful the drama program has been on their lives. Ms. Ria herself also makes it very known that she wants everyone to be involved and feel loved as a moving part of this team. Members learn to be more than just a team, but a family as you face the trials and tribulations of the season. But, joining the group is never an easy decision to be made, as each production you walk into is a new atmosphere and crew of people. 
Newest ensemble member and junior Trysta Taylor stated, "At first, I just wanted to get more involved at school, so I decided to audition for the musical at the last minute. I was so anxious at first because it was way out of my comfort zone. But now, I have a totally different perspective. I love being on that stage, and I think Godspell being my first musical is great, because it's such a flexible show. We have all put so much time and effort into this show and I'm so glad to be a part of it. When I first joined, Ms. Ria told me being a part of the cast feels like one big family. I didn't believe her at first, but I've made friends with so many amazing people during this, and it really does feel like a family now."
Godspell premieres on April 30th at 7:00pm, and continues on May 1st at 2:00pm and 7:00pm. Tickets can be bought at ramtheatreproject.com/godspell, or at the door! The final showing will be on May 2nd, at 2:00pm. It is highly recommended by individuals who have previewed the show that this is one you're going to want to see for yourself. Go out in support of your fellow RHS classmates!
Leave a Comment
About the Contributor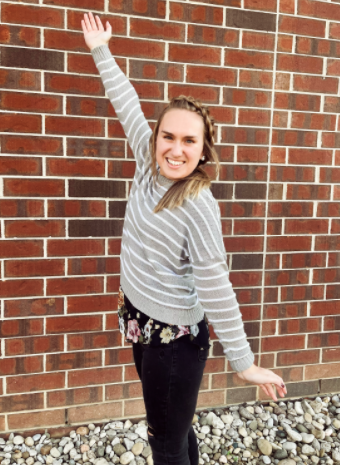 Lexie Gibbons, Editor and Staff Writer
Lexie is a junior at RHS and in her second year of journalism serving as an Editor and
Staff Writer. She is an active member of Ram Theatre Project and Ross' Show Choir, but outside of school she enjoys traveling and spending time with the ones she loves most. Though no one truly ever knows what the future has in store, Lexie loves to laugh and make as many memories as possible!