"A Night Under the Stars"
On May 15, RHS had their long-awaited prom at Pyramid Hill. Due to coronavirus, the venue of both prom and after-prom changed. Classes of 2020, 2021, 2022, and their guests danced all night, followed by raffles and arcade games at the modified after-prom.  
After the Apr. 17 date was postponed to May 15, students waited anxiously for the event to arrive. Prom was able to happen with masks mandated and an outside venue in order to allow social distancing to occur. Even with these changes, the prom operated as normal and with a King and Queen elected, dancing, and a photobooth.
Seniors Levi Grimm and Kelley Dunn were elected by the student body to be the Prom King and Queen, and were crowned by the Homecoming King and Queen, Bruno DiAngelo and Tessa Gordley.
Grimm stated, "[Winning prom king] was unexpected, and exhilarating! I am not always the most outgoing person in the crowd…I was humbled to have made it on the court and honored to have been elected."
Due to this being the first large event to occur after the lockdowns in March 2020, students were reasonably worried on how social distancing might affect their big night.
Graduate from the class of 2020, Carolyn Myers, said, "I do feel like prom was pretty safe. I liked that the dance was outside, so we were able to properly distance ourselves. And it was really cool we had all of Main Event to ourselves. My favorite part of the night was being able to dance outside under all of the pretty decorations."
Junior Robert Berting stated, "I thought Prom went pretty well. It seemed like people had fun and it was a sense of normalcy back at Ross."
After the dance concluded, After-Prom at Main Event followed right afterwards. In order to accommodate all of the students, the administration rented out the whole venue of Main Event to be safe. There, students played arcade games, laser tag, and indulged in sweets and pizza. All students were also entered into raffles for prizes such as gift cards, a TV, and Amazon Echos.
"I would have loved to experience After Prom at the high school, but I had a good time at Main Event…It allowed me to unplug and take my mind [off] of school," Grimm stated.
This event also had the class of 2020 graduates invited back in order to make up for the loss of their senior prom.
Myers said, "It was very comforting. I felt like I was able to properly say goodbye to most of my classmates and friends."
Grimm added, "I love just having our whole class together and the class of 2020. Everyone was just happy to be there."
With this being the first time prom has moved venues, the future of the event and its location wanders in students' heads. At this time, the venue is not confirmed, but RHS has booked the Shriver Center.
Overall, the student body is pleased with the outcome of one of the most memorable events in high school. Prom was a true first look into the normalcy that is coming back, and more optimism of the future of normal events returning.
Leave a Comment
About the Contributor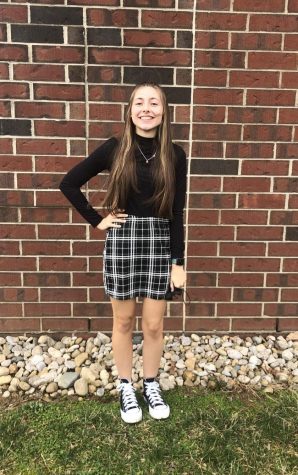 Jennifer Schwab, Staff Writer



Jennifer is a senior and in her first year of journalism. She plays the clarinet for the band and Ross Legacy's show choir band. She is the Librarian for the band and is in Tri-M Music Honor Society as well. She plans on going to Miami University to major in English and minor in Law, to further a career as a paralegal or to go into the publishing realm. She loves hanging out with her friends, family, and dogs, and going to concerts. She is very excited to further her writing career.