Carpe Diem: You Only Have One Teenage Life
We all have something we live for. We all have a purpose, but some of us choose not to find that purpose. Many live confined lives, but we can change that. Let's start living every moment to the fullest and make the most of every opportunity you get. 
Carpe diem means to seize the day and that means go make the most of the moment you are living in. For example dancing in the rain, going on a spontaneous road trip, or even dying your hair. Don't hold back from being who you are supposed to be or who you want to be. Take the leap of faith you have been thinking about but haven't yet. 
"…if I was given the opportunity to move far away, whether that be to Florida, California or a different country I wouldn't even think I would just take the opportunity right away." stated senior Jackson Beske.
Everyone is different in that the definition of carpe diem is a scholarship, job opportunity, travel opportunity, or taking the risk of doing everything that scares them. When taking a leap of faith, you lay everything on the line. Most people don't think it's worth it but deep down a lot do. 
If I were to seize my day or take on carpe diem my way, I would travel. I would go anywhere, I would just go for the experience. When I travel, I feel free and happy so if I were to seize my day I would travel anywhere and everywhere I could go. 
"If I ever were to seize the day, I would likely do this in respect to my career. I would go for a job opportunity or a position of leadership. This would involve risking the position I'm in. I'm a person who often thinks of the risks of an action before doing it. I suppose taking a leap of faith could forward my life," stated freshman Owen Ziepfel.
If no one took a leap of faith or seized their day, then the little moments that we enjoy and cherish so much wouldn't exist. Carpe diem can be important in the fact that we are getting out of our comfort zones and doing something that we have always wanted to do. It can be good for that reason because carpe diem can be anything from little to big moments. 
"I think if given the opportunity everyone should seize what they're given especially if it's all they want," Beske stated.
Risking a position you are in or taking a chance might seem scary at first or even hard. That goes for everyone but the end results can change your life. Being able to see the world or country all because you took a risk that is life changing! Or getting a job that you have always wanted that is also life altering. Without taking risks you would never receive rewards. 
Everyone take a risk no matter how small. Seize your day and take your leap of faith. Get your reward and step out of your comfort zone because everyone needs a little carpe diem to keep their little moments alive.
Leave a Comment
About the Contributor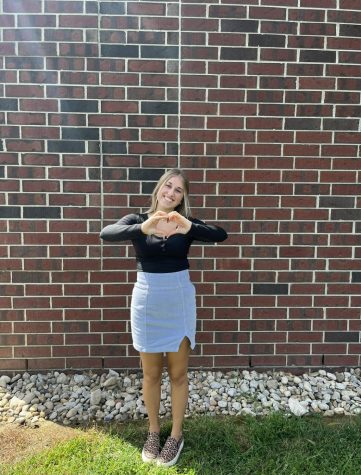 Payton Jones, Staff Writer
Payton is a senior in her third year of journalism acting as a co-marketing manager and staff writer. She loves to travel and live in the moment. Outside of school she loves being around people and trying to make the best out of every situation. Her favorite bible verse is Song of Songs 4:7 because it proves that everyone is beautiful and worthy. She also feels really strongly about helping with mental health and sharing others voices.