RHS Welcomes the New Staff for the 2021-2022 School Year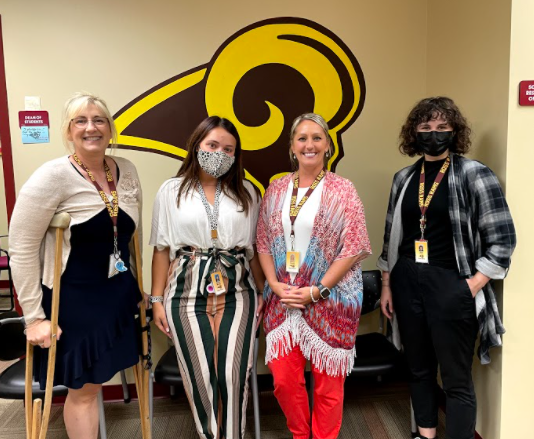 RHS is welcoming 17 new staff members this 2021-2022 school year. Although everyday life is ever-changing this group of staff is dedicated to making this year one to remember. 
Mrs. Beal- Counselor (O-Z)
Mrs. Amy Beal previously worked in northern Kentucky at Campbell County School District and also has experience working with grad students at Xavier University. She attended the University of Cincinnati for her undergrad and Northern Kentucky University for her graduate degree. In her free time, she enjoys working on revamping an old farmhouse that she and her husband purchased. This school year Mrs. Beal is looking forward to learning new things and becoming a part of the Ross community.
Mrs. Casey- Paraprofessional (Aide)
Mrs. Candice Casey has been a sub in the Ross school district for the past couple of years. She loves being able to help the students and is excited to be working one on one this school year. During her off-hours, she enjoys watching her children ride their horses and hanging around her animals. When asked what color her personality would be described as, she said lavender "because it's very calming but still bright enough to not be gloomy." 
Ms. Clarke- Counselor (G-N)
Ms. Brittney Clarke worked as a high school counselor for two years at Mercy McAuley high school. Ms. Clarke attended Miami University for her bachelor's degree and Xavier University for her master's. Ms. Clarke is eager to build relationships with the students and experience her first-ever 'cow dump'. She is often described as warm-hearted, amicable, and approachable. If Ms. Clarke were in a Disney princess movie she said she would choose a cat as her animal sidekick because they are cuddly but also fierce. 
Mr. Heyob- Teacher (Computer Information Tech)
Mr. Ray Heyob has experience teaching at St. Xavier high school, Miami Oxford, and working in industry with P&G. Mr. Heyob is excited to co-teach with Mr. O'Niell and grow the computer technology program. The three words that best describe him are "energetic, determined, and blessed." His favorite book is Les Miserables because "it demonstrates the great potential of humans to choose good."
Mrs. Hoover- Paraprofessional (Credit Recovery)
Mrs. Shawna Hoover was a sub at Ross for five years before taking a break when COVID hit. This school year Mrs. Hoover is anxious to begin her new credit recovery program at RHS. Mrs. Hoover stated, "It's for students who still have credit deficit either they still need to take classes in order to graduate or they need to take the class again if they didn't receive a passing score….primarily for upperclassman." Outside the walls of RHS Mrs. Hoover loves to kayak, boat, and vacation to Glen Harbor, Michigan.  
Ms. Keller- Teacher (English)
Ms. Maria Keller graduated from Miami University last year with a bachelor's degree in integrated English Language Arts education. Ms. Keller stated, "I left the interview and couldn't stop smiling I felt that I had been like really seen." This year Ms. Keller is excited to implement her ideas in the classroom and teach the students writing because it is something that is helped her along the way. In her free time she likes to read, and quilt because it is meditative and she loves giving handmade gifts. 
Mrs. Lawson- Teacher (Art)
Mrs. Joetta Lawson has worked in the Ross School District before this year as a sub and paired professional, she also has experience teaching at Preble Shawnee for six years. Outside of school, she loves to be outdoors with her husband and english pointer. If her personality could be a color she said it would be green because it is soothing and calm, but also energetic with a wide diversity of color options. 
Mrs. Morgan- Assistant Principal
Mrs. Becky Morgan was an intervention specialist at Talwanda high school for seven before coming to RHS. Mrs. Morgan is looking forward to getting to know all of the students and staff at RHS as well as building lasting relationships. During her free time, Mrs. Morgan enjoys running and hanging out with her two kids. Her favorite movie genre is comedy because she loves to laugh. Mrs. Morgan most admires Katniss Everdeen, from The Hunger Games, because, "she is strong, skilled, caring, and has a genuine desire to stand up for other people and do what is right."
Ms. Murphy- Paraprofessional (Aide)
Ms. Brittani Murphy has experience working with kids who are diagnosed with Autism, after working her previous job for two years she decided to come back home to her alma mater. Outside of the classroom, she loves to hang out with her four-year-old niece Kiyah and most often relates to Jess from New Girl. If her personality were a color it would be yellow because "It's such a happy and positive color and that's what I try to be everyday."
Mrs. Murphy- Secretary (Main Office)
Mrs. Melissa Murphy has experience working at Great Oaks career training center for two years. After sending her two daughters to Ross Mrs. Murphy was overjoyed to join the staff. She is excited to be back in a place of familiarity. In her free time, she enjoys watching football, being outside, and swimming. Some words that are often used to describe Mrs. Murphy are happy, optimistic, and caring. If her personality were a color she said it would be yellow because it is "bright and happy." 
Ms. Quincy- Teacher (Intervention Specialist)
Ms. Summer Quincy is an RHS alumni, she is stoked to be back at Ross for her first year of teaching. During her off time, she likes to hang out with her family and her cat as well as run her small business making t-shirts. Ms. Quincy strives to be like Tami Taylor from Friday Night Lights. In the show, Ms. Taylor is a huge part of the high school where she works by helping students through tough situations. Ms. Quincy aspires to be the Ms. Taylor of RHS by bringing a sun-shiny attitude everywhere she goes. 
Mr. Reed- Teacher (Engineering)
Mr. Chad Reed is a part of Butler Tech and previously taught engineering at Fairfield high school. Mr. Reed is excited to be teaching here with the amazing students and staff. In his free time, he enjoys "exercising, sports, and watching my four children participate in activities they enjoy." Mr. Reed is often described as easy-going, helpful, and considerate. When asked what movie or book character he admires the most he said, "Joseph from the Bible."
Ms. Reyes- Cafeteria Staff
Ms. Gayla Reyes worked at McCullough Hyde Hospital for three years prior to this school year. Ms. Reyes is looking forward to meeting new people this school year. In her free time, she loves camping and gardening. If her personality were a color it would be dark green because it symbolizes her love for nature. 
Ms. Rozzi- Teacher (English)
Ms. Bella Rozzi previously taught at Sycamore high school for one year as an English teacher. The small-town feel and kind community instantly appealed to Ms. Rozzi as she grew up in Little Miami. This school year she is eager to learn and teach Journalism and English twelve. During her off-hours, she likes to play with her cats, eat skyline, and take spin classes. If she were a shoe she said she would be the sparkly Red Bottoms because "they are classic, they're beautiful, they're stilettos, and I love sparkles." 
Mrs. Strunk- Cafeteria Staff
Mrs. Amy Strunk was previously a stay-at-home mom for seven years and a pastry chef before joining the RHS cafeteria team. Outside of the kitchen, Mrs. Strunk loves to spend time with her husband and three kids as well as bake and cook. Her favorite T.V. show is Fixer Upper, a home improvement show. She admires their "outlook on life" and how they are raising their kids in the craziness of this world. 
Mrs. Thomas- Teacher (Intervention Specialist)
Mrs. Amy Thomas taught virtually last year for the Sycamore school district. She has an immense background and experience in law enforcement. Mrs. Thomas is often described as approachable, determined, and hardworking. Beyond the walls of her classroom, she loves to run and play tennis. Her family is die-hard Disney fans, they take a trip every year. If she were a Disney princess and had to choose an animal sidekick she would choose a sloth because it is her spirit animal. 
Mrs. Vowell- Paraprofessional (Aide)
Mrs. Amanda Vowell has been in Ross for as long as she can remember. Prior to this year, she worked at the middle school for seven years and also has experience working at the Butler County Board of Developmental Disabilities for thirteen years. This year Mrs. Vowell is looking forward to continuing to build relationships with the students she worked with in middle school. During her free time, she enjoys camping, fishing, watching demolition derby's, and cheering on her boys at baseball. The movie character that she relates to the most is Pumba from The Lion King because he sings "Hakuna Matata" and she tries to live with no worries by letting go of the thing she cannot change. 
RHS is thrilled to welcome these 17 new faces to the Ross family. We look forward to seeing what the future holds and embarking on this new journey together. 
Leave a Comment