The Badin-Ross Rivalry
Our rivalry against Stephen T. Badin High School is competitively shown in all of our sports here at Ross High School. The rivalry between the Rams is ongoing and has lasted many years. Naturally, both schools have the determination to fight to see who are the "real rams." 
The football game against Badin High school on Saturday, September 18th. Though we lost with a score of 21-10, the student body showed school spirit and did not fail to cheer their fellow rams. The student section was filled with people all decked out in white and ready to face their rivals. 
The girls soccer game against Badin High school on Thursday, September 2nd ended in a tie, 1-1. The girls team had injured players not able to play still supporting them from the sidelines and friends from other sports coming to watch them play. The Badin-Ross rivalry isn't just about winning and losing and beating the other team. It is also about having friendly and fun ram on ram competition with people that have grown up together. 
Girls soccer coach Jessica Buehner stated, "I like the Badin Ross rivalry because I think it is bigger than just the sport that they play the schools, and the athletes competing for themselves and I think we are in such close proximity and then the whole fact that we are both the rams the maroon ram or the green ram."
From soccer, to football, to basketball, to softball each year the stands are packed. Students, Families, alumni, township citizens, and even elementary and middle school students thrive off the competition. Tickets quickly sell out, and competition runs wild. Who doesn't love a good rivalry game? 
Football coach Kenyon Cummins stated, "I think what makes the Badin-Ross game so big is how close we are together, we are separated by roughly 6 ½ to 7 miles. Also the fact that most of the guys and girls from soccer, football or whatever all kind of competed against each other through millville or something so you constantly see that competition. It's always there just that familiarity with each other and how close we are with each other and on top of that having the same mascot is kinda weird and cool too."
When playing against Badin High School, the sports members and players don't give any less effort than they would in their other games. They try to maintain a strong mentality and refrain from becoming intimidated. If they were to get intimidated by the other team or by something said before the game, it could mess with how they play. So every player tries to be mature when playing against all of the teams, even their biggest rival. 
Football player Bryson Bastin stated, "I wanna win every single game we play, don't get me wrong I wanna beat them very badly but I don't think it's fair to my team if I wanna win more against a team and not go in with the right attitude every game."
The Badin-Ross rivalry has gone on for years, since before most of us were even in school. So still having the opportunity to support, enjoy, and take part in this tradition is a privilege. Don't take it for granted when the next Badin-Ross game comes up, support our fellow rams and student class. 
Leave a Comment
About the Contributor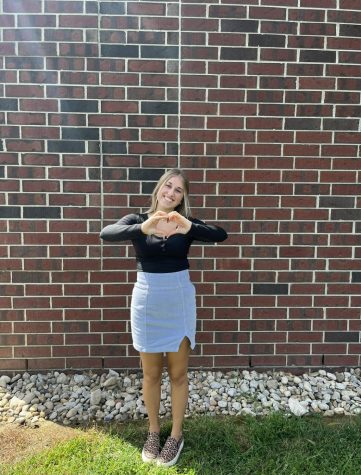 Payton Jones, Multimedia, Marketing Manager, and Staff Writer
Payton is a senior in her third year of journalism acting as a co-marketing manager and staff writer. She loves to travel and live in the moment. Outside of school she loves being around people and trying to make the best out of every situation. Her favorite bible verse is Song of Songs 4:7 because it proves that everyone is beautiful and worthy. She also feels really strongly about helping with mental health and sharing others voices.