Girls Golf Makes History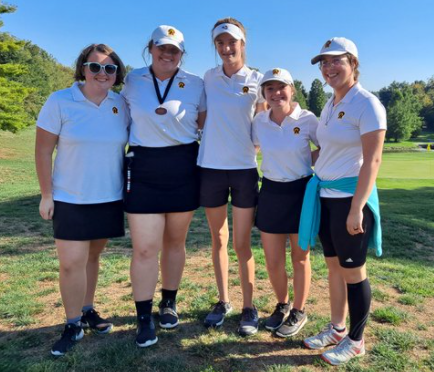 Despite this season's roadblocks, the girls' Varsity Golf team persevered. Not only did they break school records, but they also set the bar higher for generations to come. 
The girls' Varsity Golf team had their fair share of setbacks this season. 
Head Coach Richard Newsom stated, "The COVID situation made things even more challenging. Several players on the team needed to be quarantined throughout the season due to contact. We even needed to find alternative transportation arrangements as having everyone in the same van/bus was putting the rest of the season in jeopardy. With strong communication between the team and the Athletic Director, we were able to solve this and finish out the season."
This was Newsom's first season coaching golf at Ross, but the girls didn't let that stand in their way. Newsom praised the team for their "willingness to accept new ideas and new ways to approach the game of golf." 
Junior Sydney Prewitt, the top performer at sectionals, stated, "Coach Newsom is so experienced and very involved in wanting us all to be the best golfers we can be. He coached us very well and I can't thank him enough for it."
Instead of allowing these plot twists to hold them back, they took the opportunity they were given and ran with it. 
"The girls on the team requested to practice and play more than they ever had in the past. All practices are optional until August 1 yet we had weekly participation at conditioning and practices beginning in April and lasting throughout the summer until the season started in August," stated Coach Newsom.
The girls' hard work proved to pay off. The girls' Varsity Golf team made their best finish in school history coming in second during both the regular season and in the SWOC tournament. They beat their previous record at sectionals by 40 strokes, finishing eighth out of 16 schools. 
Prewitt stated, "Everyone improved when it came to their golfing. It felt good to actually win the[sic] majority of our matches when in the past a win was rare." 
Winning makes the game more enjoyable, but being surrounded by people that you love makes the experience even better. 
Senior Isabelle Roberts, the top-performing senior, stated, "The highlight of my season was definitely my teammates. I couldn't have asked for a better group of girls around me."
Ending with arguably the best golf season in school history, the girls are proud of their accomplishments and eager for next year. 
Leave a Comment