In the Midst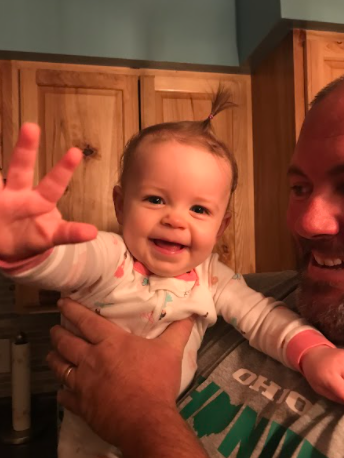 This goes out to anyone battling through a hardship, if that's you, I encourage you to take a read. Try to keep an open mind, and tissues at hand. I can assure you there were some tears typing this, so there's bound to be tears reading it. Lastly, before we get down to the nitty-gritty, I write this not to draw attention, but to show people that they are not the only ones hurting. I hope you know you are not alone, you are never alone. We all struggle, we all cry, we all plead to God, we all ask why. The only way to get through these things is together. 
I was recently informed that my five-year-old cousin's cancer has come back. 
He was diagnosed with brain cancer in the Fall of 2019. After exactly nine months, he was cancer-free and back at home, but not completely himself. Due to the size of the tumor, his mental growth was stunted, and the chemotherapy affected his vocal cords. He lost the ability to talk, couldn't walk or feed himself, and had a trachea so he was able to breathe. Needless to say, it was a long year. 
My cousin's siblings spent a lot of time with my family and I. We had many early mornings and late nights watching the girls. The only time the girls spent at their home was over the weekend and to sleep, other than that we were a family of seven.
Just thinking about this takes me back to those times. Holding my cousin while standing in the counselor's office, letting the tears spill out of my eyes and run down my cheeks after getting bad news about her brother. Countless prayers at youth group asking God to heal my cousin. Escaping to softball practice so I could have just a couple of hours where everything was normal. 
To see how much improvement my cousin has made over the past year, talking again, walking with assistance, eating on his own. Then we get a diagnosis like this, I can't put my feelings into words. 
When he was first diagnosed, it wasn't incredibly horrible. We created new traditions like making pies together on Thanksgiving and celebrating birthdays as one big family. We took delight in having bath time with the toddler and introducing my older cousin to the youth group. We made sure to focus on the good, how God was strengthening and growing us as individuals and as a family. There were positives that came from the situation, but I wouldn't necessarily want to relive it. Yet, here we are. 
Part of me wants to ask God what in the world he's doing, like "God I'm really not understanding your philosophy right now." However, after thinking about it, I came to a realization. If we always understood what God was doing, we wouldn't need trust. If we always knew what would happen we wouldn't need hope. If we always knew God's plans we wouldn't need faith. I know it's not easy to remember this in the moment of despair, but it's even mentioned in the bible. 
James 1:2-4 states, "Consider it pure joy, my brothers and sisters, whenever you face trials of many kinds, because you know that the testing of your faith produces perseverance. Let perseverance finish its work so that you may be mature and complete, not lacking anything."
Let's be real, sometimes life just sucks. If we were to focus on all of the sucky things in our lives we wouldn't get out of bed in the morning. If we were to sit down and list all of the bad things that are happening in our lives, we wouldn't function. I'm not saying it's wrong to be angry or depressed when we get this tough news, but we have to be able to rise above it all. In order to make the most of the time we are given, we are going to have to push the negative emotions to the side and live despite the disappointment. 
When I heard about my cousin's recent diagnosis, I told myself I had 24 hours. Twenty-four hours to feel my emotions, to cry, to mope, after that, no more. It's not that I'm not upset anymore, it's that I'm choosing to see the bright side of things and trust in God's ability. 
Maybe I'm crazy, but I don't believe in science, I believe in Jesus. I believe that he is going to heal my cousin, maybe not right away, but he will. To be clear, I don't believe this just because there is no cure for cancer, I believe this because I know how strong my God is. The creation cannot overpower the creator.
So as I sit here teary-eyed, pondering about what the near future may hold for my cousin and family, I remind myself of this; God works in crazy ways, and he often likes to show up last minute. Nevertheless, he's always on time. No matter what you're facing, God has the power to overcome it. You have to choose to keep your eyes on him in the midst of the storm. After all, who cares if it floods, our God walks on water.
View Comments (3)