The New Director
As some of you may know, former RHS' drama director Ria Collins has left Ross to pursue a job in Atlanta, Georgia. Since then, Shawn Maus has been hired to fill the spot she left behind. 
Collins left near the end of last year to many of her student's dismay, and Ross was left without a director. This year after much anxiety, the students were relieved to hear the school had found a new person to pick up the directive role. 
Maus stated, "I'm a filmmaker, screenwriter, and old-time radio enthusiast. I've made short films that have played at numerous film festivals throughout the U.S.¨
Despite having plenty of successes outside of teaching, Maus decided to come back to highschool theater.
Maus explains his reasoning, stating that his interest in returning stemmed from his friendship with Brenda Hartman who reached out to Maus about a teaching job. During his interview Maus was also asked if he would teach the drama class, similar to what Collins did when she held the role of director. 
"I am not teaching on the Ross faculty.  I'm interested of course, but I think Mr Finkbine is doing a terrific job with the drama classes," stated Maus.
Maus has said that he wanted to grow the theater program and went into further explanation.
Maus stated, "I want to develop a program that's open to all, no matter your interests, grade level, knowledge or skill level. There's always room for everyone to grow and share their talents."
Maus´ skills are up to the test with the upcoming "Frankenstein" production.
Maus explained "I can bring a unique perspective to the current project I'm working on. For example, with this fall's production of Frankenstein while it is a "radio play" I'm bringing all my skills to making it a creative version. I'm bringing elements of the old-time radio productions of the 30s and 40s (we're not using any computer technology to make sound effects or music), as well as staging elements from theatre (costumes, costume changes, stage movement/blocking) and even multimedia for "set" projections which is all the rage in a lot of broadway shows which has been taken from the TV/film world."
With the first production of the year on the horizon, November 12th being opening night tickets going on sale now. Be sure to introduce yourself to Mr. Maus to help make him feel welcome
View Comments (6)
About the Contributor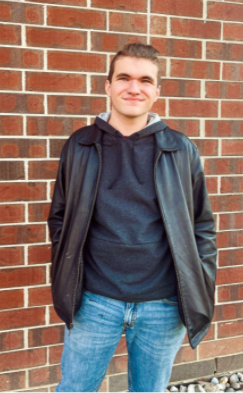 Lake Scalf, Staff Writer









Lake is a junior and is in his second year of journalism. He is a part of RHS´s theater club. Outside of school, he prefers to spend his time watching classic films and writing short stories. In the future, he hopes to pursue a career in acting either on stage or in movies or scriptwriting.