The Student Becomes the Trainer
After spending time in the limelight as a former athlete and coach, new athletic trainer Kendall Cramer finished out her first fall season as an official staff member at Ross High School. 
As a middle defender in a flat back four, Cramer was used to taking the field in the game of soccer. After graduating, Cramer continued to use her skills by coaching others in the sport she held so dearly herself. She explained that in coming out of this experience, it was very difficult for her to find the middle ground between wanting to coach the students of RHS in their chosen sport while also remembering what she was there to do. 
Cramer stated, "As a former athlete and a former coach, sometimes it is hard to sit by and be the impartial party. I get invested in athletics, especially Ross athletics. When you are the athletic trainer, you fall into a different role. You obviously can't play, and you have to try not to coach too. As a former athlete and coach, these things are hard for me. However, I have learned to channel my energy into supporting my athletes and caring for them and it is so fun and rewarding, just different from my other roles."
Although the new role Cramer took on posed an specific change of mind, she handled it significantly well, making many great relationships amongst the students who she stated, "kept her on her toes."
"Everyone was extremely helpful and welcoming. I couldn't have asked for better coaches and athletes to work with, especially my first year. Of course I have to thank Kari for supporting me every step of the way and always being there to share the load when things got tough. I also have to thank Estella Varner for all her support on the football sidelines this fall. It truly takes a village to make this work and I have the best village," stated Cramer. 
Just as any season would, the past fall held multiplicitous victories, while also holding some unprecedented lows. Nevertheless, this did not faze Cramer. Working alongside her team, she was not surprised by the hand she was being dealt. Rather, she chose to see each twist and turn as a new opportunity for growth and success. 
The opportunity for achievement is primarily what drives Cramer to continue doing what she loves to do. With hopes for an even more successful winter sports season, she looks forward to aiding those in need of athletic injury assistance here at Ross High School. Oftentimes, Cramer is to be found laughing with students in her office while giving advice on how to better themselves physically, athletically and emotionally. Moments like these, truly show what it looks like to support others in following their dreams, just as someone once taught unto her. 
Cramer stated, "I am beyond excited to continue my practice here at RHS. In the short time that I have been working here, it has started to feel like home. Ross is a family and I am so lucky to be a part of it."
Leave a Comment
About the Contributor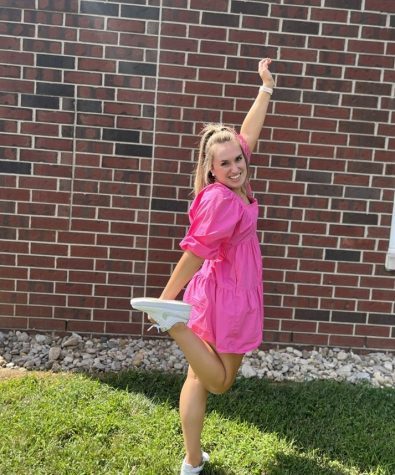 Lexie Gibbons, Editor and Staff Writer
Lexie is a senior at RHS and in her third year of journalism serving as an Editor and Staff Writer. She is an active part of Ross' Show Choir, but outside of school she enjoys traveling and spending time with the ones she loves most. Though no one truly ever knows what the future has in store, Lexie loves to laugh and make as many memories as possible!