"Red" (Taylor's Version) Review
In 2012, Taylor Swift released her fourth studio album, "Red." With 19 songs, including bonus tracks, this album represents love and heartbreak, with tear-jerking lyrics and upbeat tunes. When Swift's music was sold without her permission, she made the decision to re-record her music, in an attempt to regain ownership of the music she wrote. On November 12, 2021, she released her version of 'Red,' and I'm just gonna say I couldn't wait to listen. 
The album consists of 30 tracks, with 19 original songs, a 10 minute version of the beloved 'All Too Well,' and 9 new "from the vault songs." Which were songs she wrote at the time, but didn't make the final cut. Three of those songs, 'Better Man,' 'Babe,' and 'Ronan' may sound familiar due to their unique releases. 
Ronan was a single released for Ronan Thompson, who died three days before his fourth birthday due to neuroblastoma. The lyrics were inspired by Thompson's mother's blog posts, leading to her being named as one of the writers.
The other two songs were written by Swift, but previously recorded and released by other artists. 
The other "from the vault" songs feature familiar names in pop culture, including Ed Sheeran, Chris Stapleton, and Phoebe Bridgers. Along with features from the original collaborators, Ed Sheeran, and Gary Lightbody. 
At midnight on November 12th, the album was released, and it was not a disappointment. In fact, within hours of it's release, the album broke a Spotify record. 
On Saturday, Spotify tweeted a picture of Swift with text on it that read, "On Friday, November 12th, Taylor Swift's Red (Taylor's Version) broke the record for the most-streamed album in a day by a female," Along with the caption,"We'll remember this day in history all too well." Nodding at her 'All Too Well' lyrics. 
Speaking of 'All Too Well,' I need to talk about the new 10 minute version. This is what I was anticipating the most. I think the lyrics are very well written. It's one of those songs where you can really tell emotion by the lyrics. I also think the short film was phenomenal. 
This song was also a particular favorite among RHS students. Over 60% of those who took a survey answered that it was their favorite.  
A common favorite lyric from the album came from this song, being, "I was never good at telling jokes, but the punchline goes, 'I'll get older, but your lovers will stay my age.'" 
All Too Well also contributed another common favorite lyric saying, "And you call me up again just to break me like a promise. So casually cruel in the name of being honest. I'm a crumpled up piece of paper lying here, cause I remember it all too well." 
I personally love this lyric. I've always loved this lyric. I will always love this lyric. It's so seemingly simple, yet it can cut like a knife.
Sophomore Morgan Barnes described this song as, "Very powerful," and I cannot agree more.
Swift isn't just a songwriter, she's a storyteller. You can get a picture of what the song represents through her lyrics. Her lyrics contain emotion and meaning, which is very rare these days with other artists who sing about drugs, drinking, and hookup culture. 
I think that's why so many teenagers and young women enjoy her music so much, because she's not promoting a dangerous and unfulfilling lifestyle, yet she creates music that a lot of people can relate to. 
I really liked the "from vault songs." I think my favorite is 'Forever Winter,' because of its powerful lyrics. In the song she says, "All this time I didn't know, you were breakin' down. I'd fall to pieces on the floor, if you weren't around. Too young to know it gets better, I'll be summer sun for you forever, forever winter if you go." In the song she's seemingly pleading with someone to see the light. Allegedly, she wrote this song about a friend who struggled with mental health issues, and died of a drug overdose. 
'I Bet You Think About Me' is a really nice song too. At first I didn't really like it, but now I can't stop listening to it. It gives very heavy 'Picture to Burn' or 'Speak Now' vibes, and I love it. The music video, which was directed by Blake Lively, was also great in my opinion. 
Another song I absolutely loved off this album was "Nothing New." It is a sad song, but I feel like it's one of those songs that is very relatable. My favorite line is definitely, "I wake up in the middle of the night, it's like I can feel time moving." Just because I feel this way, and it stresses me out. 
Overall, I think this album is a staple when it comes to Swift's discography. Not only does it resonate with so many people, but it's written so beautifully and has the power to make you feel emotions you didn't know you had. I would definitely say that this album is worth the listen, just remember to listen to Taylor's version to support her on her path to regaining ownership over her own albums. 
Leave a Comment
About the Contributor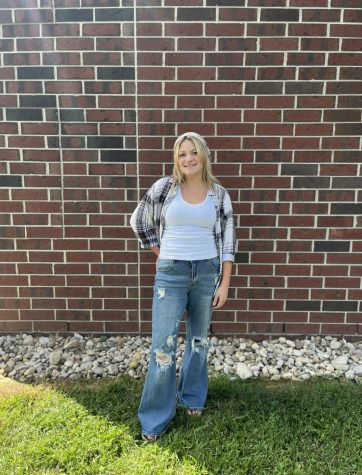 Alyssa Bruening, Staff Writer
Alyssa is a senior in her third year of journalism, and is a co-marketing manager for the RoHiTi. Alyssa loves Jesus, writing, and politics. She loves talking about her faith and beliefs, and she especially likes writing about them. One day Alyssa plans to get involved with politics by running for office. For fun, she likes hanging out with her family and friends and listening to music.