How to Write a Song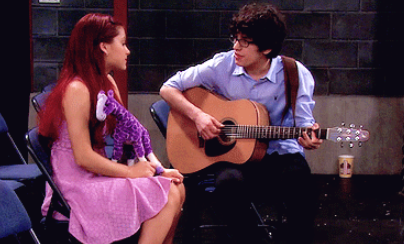 With Christmas quickly approaching the search for the perfect present persists. What if we decided to stop searching for the perfect present and create the perfect present. Swap a present, for your presence, by singing them a self-written melody that will make their heart swell. These five easy steps will take you from a kazoo soloist in the fourth-grade music concert, to the next Taylor Swift. 
Before we begin, I must remind you that this is not about how musically inclined you are. I promise, even if you hit the screech note and break a window, the words will mean more to them than a teddy bear or new tie ever will. So take a deep breath, trust your ability, grab a pencil and paper, and let's do this. 
Address your emotions
They always say the best songs come from the heart, but they forget to mention that to get to the heart, you have to unlock your emotions first. Try to sit and think about what you're feeling, and give it a name. You can absolutely have more than one feeling, most times when I write I have a storm of emotions. By shrinking it down to just a few emotions you will be able to harness them and discover what is driving you to write. 
Pick a topic
I encourage you to pick a topic that is meaningful to you, and that you resonate with. You'll also need to pick a topic that is fairly vague so that you have enough to write about; however, be careful to not go too general and attempt to write about something like love as a whole. Think about the emotions you've named, what causes you to have those emotions? Was it an experience, lack of an experience? Maybe you are feeling those feelings because you've recently had a realization. Maybe you finally understand an experience you didn't before. Whatever the reason may be, nine times out of ten, the thing that is causing those emotions will be the best topic because the words will just come; they won't have to be forced. 
Time to write
Now that you have picked a topic it's time to start putting it down on paper. Personally, I find it easier to write when I have a beat. Even if you can't play an instrument you can still tap your fingers on the table or your feet on the ground, so get to tapping. Find a rhythm and tempo that speaks to you and go with it. 
The hardest part about writing is starting. I often feel like it's hard to get the ball rolling until I just dive right in. Don't try to be perfect with the lyrics, don't think too much about making it sound proper. You don't have to be a word nerd to mean what you say. 
I usually like to have my lyrics rhyme somehow, but that isn't a must. Just do what you think suits your topic and your person. Try to write your lyrics in sets, like stanzas of a poem almost. Don't worry about writing them in a specific order. This is just the time to brainstorm and see what works and what doesn't work.
This is the most crucial part of the whole process, and also the most difficult. The best advice I can give you for writing is to wear your heart on your sleeve. Put it all out there. Take that leap of faith, tell them you love them so much it scares you. Tell your mom she's been the most influential person in your life, tell your dad that he's the reason why you work so hard. Tell your best friend that you never used to believe in true friendships until you met them. Tell them, because you never know when you won't be able to. 
Revise and edit
Now is where you take the lyrics you wrote and piece them together. Start singing them in longer sets, see which one flows nicely into the next, and eventually choose your chorus. This is the time when you can alter the wording to seem more in-depth if you so choose. Although I recommend you keep it original and unique to you, don't go searching on Thesarus.com for a word to make it seem more 'special'- it's already special because you took the time to write them a song. 
Finishing touches 
After the sequence of lyrics is secured it's time for one final run-through. Just to make sure it's all squared away. Try not to overthink it, don't second guess yourself. Remember what I told you before when you started? Trust in your ability. Once your last-minute tweaks are finished, that's it. You have now officially written your own song. 
Notice that nowhere in this article did I write for you to create a title for your song. If you want a title, have at it, but I didn't include that for a very specific reason. I don't believe in titles. Titles try to summarize ideas that are so vast and intricate with just a few words. If I were you I would just introduce your song by simply saying, "Hey, I love you, a lot. I know I struggle with showing it sometimes, so I wrote you this song." 
Now, go to your loved one and sing them your song. Sing at the top of your lungs proclaiming your love, or do your best to choke back the tears, fighting through your voice cracking. Either way, I applaud you for being brave enough to put your thoughts and feelings into words. That takes guts, and maybe being a little crazy, but love is crazy too. Despite the craziness of it all, we do it anyway, because it's worth it. So go do your thing, I'm rooting you on from afar. 
Leave a Comment