Winter Weather Wardrobe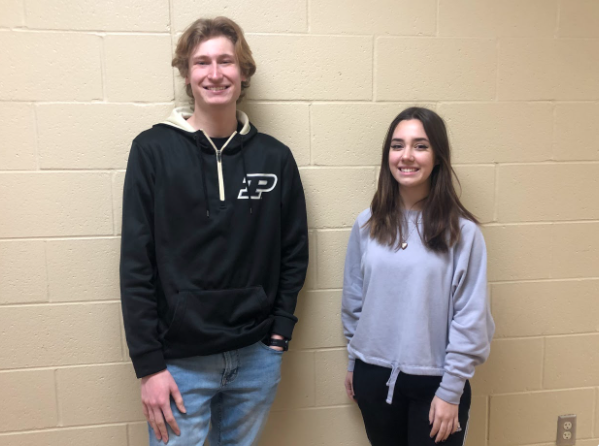 Around this time of the year, the weather is cooling down, and many are busting out their winter clothes. Chillier weather can allow more creativity and comfort with day-to-day fashion selections. 
Some of the recent crazes consist of oversized tops, vests, and knitwear. Also fitting the cold temperatures, knee-high boots and cozy sweaters have been a go-to for many people this season.
Popular styles such as hoodies, oversized coats, layering, and puffer jackets, were picked by many. Of students surveyed, 21.2 percent said that oversized coats and knee-high boots were the best for the wintertime. 
Sweaters and layering are much more favored this year because they are wonderful for accommodating the freezing weather. Their simplicity and styling options allow for a laid-back and snug fit. A casual, relaxed sweater is a must-have for numerous occasions surrounding the cold.
Senior Sami Gassman stated, "I'm a fan of oversized sweaters in general since they're warm and they look nice. Anything oversized would be something I'd like to see this winter. My favorite article of clothing I've worn this winter is my boots because again, they're warm."
Winter clothing styles vary quite a bit, while components like large coats and hoodies remain desired by many. These winter-friendly apparels stay staple pieces for most people. 
Flannels are also considered a sharp addition to a seemingly regular outfit. This effortless move enables someone to have a hip flare while staying toasty.
Junior Alli Gassman stated, "Flannels, while adding dynamic and shape to an outfit, also adds warmth and coziness. In this freezing weather, a flannel is absolutely a must have in your closet. Not just for girls, but definitely for guys too. Anyone can wear and look good in flannels."
More relaxed outfits are a well liked style for many students. For a more distinctive and individual look, some students favor graphic tees accompanied by a loose jacket. These fun and easy combinations are fantastic and cozy.
Junior Gus LaValle stated, "I wear band tees with groups that I enjoy like The Doors and other artists along with a flannel or possibly a hoodie instead. Just casual and comfortable combinations since flannels and hoodies can go with almost anything."
Students are more likely to lean towards sustainable and comfortable clothing over extravagant outrageous choices. While wintertime attire will always be changing, everyone will maintain the unique style they have.
Leave a Comment
About the Contributor
Ashleigh Jarvis, Staff Writer
Ashleigh is a senior at Ross High School and is in her first year of journalism. She participates in marching band, concert band, and pep band playing the clarinet. She is an officer in the Ross Marching Band as Historian. She enjoys listening to music and her favorite band is Fleetwood Mac. She is very involved in her academic career at school. She plans to attend Miami University in the fall for psychology and fashion.