Let's (not) Go To The Beach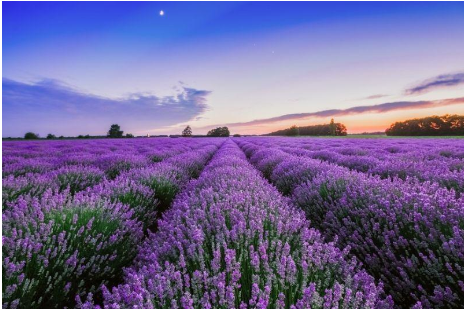 The world is your oyster" stated Shakespeare. This saying rings true for many people. All over the world, and even in our country there are amazing places to visit that most people don't know about. With summer coming in a few days it's time to start planning those vacations and get-aways. Whether you choose to go somewhere in Ohio or outside of the state, there are hidden gems all over. 
Texas Hill Country located in Texas, is a beautiful lavender filled town. In this little town, lavender rules. Tourists will find miles and miles of lavender fields and a lavender festival. Restaurants line the town, inviting tourists to enter through the doors greeted with delicious food. During the month of May, peach fields are present and tourists are able to visit and pick their own peaches at multiple farms, usually with a fee based on the weight of the peaches. 
Via Travelers' website, a vacation destination travel blog, stated, "Stargazing and gardening are the top activities here. In addition, Topaz is found plentiful here…"
If you are a fan of star gazing, lavender, peaches, small town vibes, and beautiful photo opportunities, Texas Hill Country is the place for you. 
Junior Olivia Mueller stated, "I would like to visit Texas Hill Country because the fields are pretty and relaxing. I love nature so I would love visiting them!"
It can be nice to travel to beautiful places filled with lavender fields but if you're more of the hiking type who loves to get lost in nature there's just the place for you.
If you love sand dunes, forests, creeks, and mountains, travel over to Colorado to the Great Sand Dunes National Park. 
Via Travelers' website stated, "Activities like snowboarding, sand sledding, hiking, camping, and swimming in the Medano Creek…are just some of the activities you can… take part in."
The Great Sand Dunes National Park has ranches where you can stay and experience living near waterfalls and sand dunes. Taking a break from everyday life and exploring the beautiful sand dunes of Colorado and stargazing at night before heading back to your ranch would be a beautiful experience to have this summer. 
If you love the idea of mountains and rock formations but Colorado is too cold for you, head on over to Kanab, Utah. At Kanab, tourists can experience an unknown charming landscape that will capture their eyes as soon as they arrive. 
Driving to Kanab, tourists will pass orange clay mountains and layers of sunstone that make the rock formation a breathtaking view. As well as getting to experience the wonders of orange mountains, tourists can also visit coral pink sand dunes and Zion national park. 
Junior Amelia Dennis, who recently visited Zion and the Grand Canyon, stated, "It was really fun to spend time with my family and get away from school for a week while exploring some of the most beautiful nature I've ever seen." 
Utah is a great place to connect with family, relax, and have fun. However, if you like the idea of being outside, but not in the sweltering heat, Maine is where it's at. 
If you love sailing, fish, and history, Camden, Maine is the perfect place. Camden is an unknown treasure filled with history and charm. 
As tourists visit this town, they will see beautiful 19th century homes, a local Opera house, and the largest building in town being a library. Great food is another thing Camden doesn't disappoint its tourists with. High-class chefs use local food to make delicious dishes. 
Camden is also home to yachts and sailboats which makes visiting Penobscot Bay a breeze. When you visit Camden you'll feel like you are living in a dream. 
If you don't want to travel far and want an enchanted experience, Landoll's Mohican Castle, located in Loudonville, OH,  is your next stop.  Landoll's Mohican Castle is not only a castle but a place where people can feel like they are a king/queen. 
Only In Your State's website stated, "Located in Loudonville, this lovely little getaway features gorgeous suites, murder mystery dinners and other amenities sure to make you feel like the queen/king of this whimsical castle in the middle of the forest."
Sophomore Aubrey Rettig stated, "I would want to visit Landoll's Mohican Castle because it's pretty and aesthetically pleasing. It also looks like it's by a forest and I like hiking."
Summer is a time of vacations, friends, family, and sun. For your 2022 summer vacation take a step outside and across a couple state lines to these breathtaking spots sure to make your summer one to remember.
Leave a Comment
About the Contributor
Natalie Janssen, Staff Writer
Natalie is a junior at Ross High School and in her first year of journalism. She is involved with the marching band, concert band, and show choir combo. She is also a member of the Hamilton Foundations' Youth Philanthropy Committee as Head of Recruitment. Outside of school she enjoys traveling and spending time with her family and friends.