Mr.Beck: The First Class Experience
As we enter into the new school year, you may find yourself seeing numerous new RHS staff members throughout the halls. One new face is Mr. Justin Beck, who you might have seen as the RMS Dean of Students and Assistant Athletic Director last year. His role in the district recently changed to the role of Athletic Director. 
Beck grew up near the Columbus area with his family. His parents divorced when he was 12 years old; an age that is critical to a young person's development. During these difficult times, Beck received great support from many of his teachers and coaches.The impact those individuals had on his life played a huge role in him choosing education as his career.
Beck stated, "To this day I still speak to many of these coaches every day.  These coaches helped push me and allowed me to pursue my passions even if I wasn't the greatest at them. They saw something in me… They believed in me as a leader and helped shape me into the man I am today."
Before Beck started his journey here at RHS just last year, he was an intervention specialist with a focus on English at Hamilton High School. During his time at Hamilton, Beck started a leadership class and coached not boys basketball as well as golf. 
As Beck takes his new position he stated that, "I felt uneasy and challenged, but this doesn't prevent me from striving to accomplish my goal to help provide the first class experience to our students." 
His whole goal is to create a safe and fun experience for all students to be a part of. This year he is trying to give students as many opportunities as he can to be involved and make the most of their high school years. 
"Mr.Beck has returned my love of school spirit, Due to covid and all the complications that came with it, school spirit was really lacking. For example, the last couple years we could barely fill up our student section, and no one participated in spirit week. This year on the first game, the student section was more packed than I could ever imagine and it was such an honor leading the herd" stated Senior Athlete and Herd Leader, Jack Schottelkotte.
 Beck took the position because he cares about the student body and wants the students to shape it the way they want to. For many, they see Beck as a huge supporter of athletics.  He goes to home and away games to support the teams whenever he can. 
Adi Johnson, Senior Athlete and Herd Leader stated,"Mr. Beck is very supportive, He is somewhat like a personal hype man. He genuinely cares about the success of students and athletes. He works very hard to create a great environment for student athletes to be involved in."
Beck continuously works day and night to create that first class experience for everyone. He is constantly moving and speaking with students and staff that can help create this. Beck has taken over this position beautifully and has shown his commitment to the athletes.
Freshman Student Athlete Kenley Commins stated, "He doesn't stop showing up. Whether that be at a sporting event or at a community event. On top of the dedication he provides, he is an amazingly hard worker. He will spend hours doing things to benefit us and our athletics. I'm pretty sure he walks more steps in a day than I do in a week."
As Beck tackles this position, he continues to show his dedication by finding even the littlest things that make something negative and turning it into something positive. Beck hopes that students are able to create this in their own ways as well.
Beck ended by stating that he wants students to "Find something that you can fall in love with during your high school career. Find something outside of your comfort zone, let yourself experience something new and different. That's the beauty of high school; it's finding what you love. Find the thing that passion that excites you and wakes you up in the morning."
View Comments(1)
About the Contributor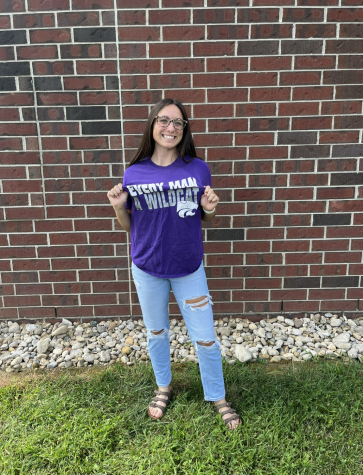 Estella Varner, Sports Editor and Staff Writer
Estella is a senior in her third year of journalism serving as the Sports Editor and Staff Writer. She is on the RHS swim and softball teams, and serves as the Student Athletic Trainer, Vice President of FCCLA as well as a part of a club soccer team and competitive dance team. Outside of school she enjoys spending time with her dog Apollo, friends and family. Estella plans on going into an Exercise Science degree with the path of Athletic Training post-graduation as well as playing college soccer at Mount Saint Joseph University.