The Evolution of Standards
As the 2022 fall semester soon approached, Ross High School Principal Mr. Brian Martin and Vice Principal Mrs. Becky Morgan welcomed additional and surprising changes to the high school dress code. As the process is ongoing, not all changes are final with room to grow in future school years. 
According to the Ross High School 2022-2023 Student Handbook, dress code standard three states, "Lower garments should not allow any portion of the buttocks or undergarments to be exposed when the student sits, stands, raises his/her hand above their head or bends over. Skirts and shorts must be at least the length of the thumb when hands are placed."
In prior years, the requirement for short/dress length apparel has been the end of the middle finger. As the administration of RHS now allows, students are able to wear clothing to the length of their thumb. 
Morgan stated, "I'm in support of the dress code. I think that you know, it's definitely something that we need to have because students and people in general are always going to be in situations in their life where there's an expectation…wherever you choose to work you are going to be told that you can wear this and you can't wear that. And this is professional and this is not professional, so I think that doing that now helps prepare students for their entire life and just knowing that there's expectations based on the environment that you're in." 
The issue of dress code has been and remains to be a hot topic among RHS students. Fashion moves swiftly, leaving no time to collaborate with old trends but instead bringing forward new styles. While the debate of too much or not enough is still in the air, individuals continue to voice their opinions in a variety of ways. 
"For me personally…I again don't really show off much skin when I dress. But for people who do, it has helped because you don't want to come into school and have to worry about whether or not you're gonna fit the dress code, because you have a million other things to worry about," stated senior Lake Scalf. 
While dress codes are there to hold a standard, and verify the appropriateness of real world attire, they also create a sense of stress for those who fall outside of the alleged lines. Both sides of the argument hold congruent points for the well being of students, however the ultimate decision may be found in the hands of freedom.
"Dress code is something that evolves kind of, like fashion does…we definitely want to evolve with students and, you know, be up to date with trends and fashions and stuff. So we were very open to working with students and trying to stay up to date with today's trends," stated Morgan. 
With principals and students alike sharing differing opinions on the topic of dress codes, teachers also find themselves in a predicament over the currency of attire. Some hold no opinion on the matter, while other voices seek to be involved In the process of stirring change.
English teacher Mrs. Emily Hamblin stated, "What is 'appropriate' or 'inappropriate' typically amounts to 'I don't like it, so you can't wear it,' rather than any concrete sense of reasoning. All students and staff should understand that they are responsible for managing their own personal 'distractions' without regulating individual students' clothing/self expression." 
High school is a difficult place to advocate for your voice; and many find themselves in the design of their clothes. What one wears on their body holds the power to speak what words cannot. As the student body continues to transition, it is important to hold a place of respect for all who are involved. Without respect for another, no circumstance will ever get settled. 
"…I've decided that I'm going to try to be more myself stylistically…And I really want people to also be able to pursue that because I feel like if you feel comfortable, you are comfortable, but if you think you look good, then you'll be more confident," stated Scalf.
View Comments(1)
About the Contributor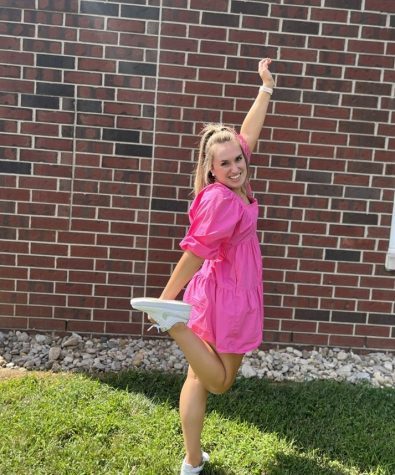 Lexie Gibbons, Editor and Staff Writer
Lexie is a senior at RHS and in her third year of journalism serving as an Editor and Staff Writer. She is an active part of Ross' Show Choir, but outside of school she enjoys traveling and spending time with the ones she loves most. Though no one truly ever knows what the future has in store, Lexie loves to laugh and make as many memories as possible!