Back To Saturday Football
College football is officially underway and Saturday football is back. Teams are without their seniors from last year, there's new rankings, and a whole lot of rivalries facing each other once again. There are so many different teams to root for and so many things to be excited about for this upcoming year.
Top teams like Alabama, Georgia, and Ohio State are, again, competing for a championship and many fans are excited to watch their favorite teams and players for the first time since January 9 of this year.
Some teams have lost their seniors from last year to graduation and the NFL draft. One of those teams is the Cincinnati Bearcats. The Bearcats had many seniors last year that ended up being drafted. Two of the main guys that got drafted were Ahmad "Sauce" Gardner, Cincinnati's cornerback, and Desmond Ridder, Cincinnati's quarterback. All in all, nine Bearcats were drafted into the NFL leaving numerous holes to fill.
Besides Cincinnati, the Georgia Bulldogs had 15 players drafted, Alabama had seven, and Ohio State had six. Furthermore, viewers are now seeing new starters on the field and new talent making big plays and making their case to be drafted themselves.
College football is similar to many other sports in the fact that any team can beat another team on any given day, no matter how good or bad those teams are. Upsets happen all the time and that is just one thing about college football that makes it so exciting and intense to watch.
Sophomore Andrew Gettler stated, "The fact that you can see kids from all different backgrounds ball out. Also, you can see little schools take on big ones and upset them."
Although there are a few different rules between college and professional football, the NFL, many people prefer one or the other. Some reasons for this are that NFL players get paid a lot of money to play, there are different teams to root for, and people know family and friends that go to certain colleges.
Freshman Damon Isaacs said they prefer college football over the NFL because, "… there are many more players and it's more fun to watch a player's growth from his freshman year all the way to a senior."
Even though players leave college football after four years and some think the NFL is better to watch, college football can still bring together some families. Families get together and cheer on their favorite teams along with a variety of snacks to make the experience even better.
Junior Coy Day stated, "… the best part is when we have snacks to eat during the game and just hangout and talk about different plays that happen in the game."
This past off season, there were changes made to the playoffs. Instead of just four teams making it, there are now 12 spots for teams to make a run at the championship. With that said, the College Football Playoff National Championship is on January 9, 2023 on ESPN. Some have predictions of who's going to win it all, but any team can hang in there and take home the championship trophy.
Will the Bearcats win it all? Ohio State might get their revenge from not making the playoffs last year or Georgia could win back-to-back titles. Come together with family and watch the showdown of all college football teams battle it out on the field to try to get to the playoffs, and maybe even the championship.
Leave a Comment
About the Contributor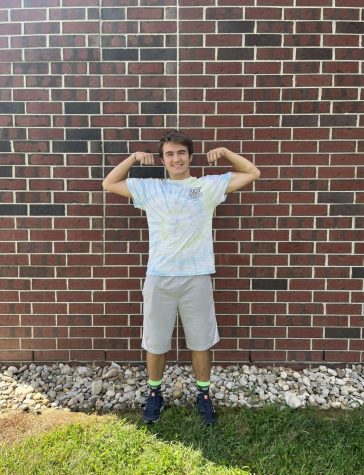 Jonathon Woedl, Staff Writer
Jonathon Woedl is a junior at Ross High School and in his second year of journalism as a Staff Writer. He plays baseball in the spring for the school and in the summer. He loves to play all kinds of sports with his family and friends and go to youth groups as well. He doesn't know exactly what he wants to do in college but knows he wants to go to college to play baseball and pursue his life for Jesus.