Band Isn't Only Band: Six Things You Didn't Know About Color Guard
It's a crisp, cool Friday night in the stands of Ross High School with fans young and old gathered to cheer for either team and their opponent. Suddenly, it's halftime and a large group takes the field. The group is composed of instrumentalists, conductors, and nine color guard members. While at first thought the term 'band' may bring to mind an image of various instrumental groups, our very own Ross Band of Class is much more. Here are six things one may not know about the sport of color guard.
1. Practice makes perfect.
The guards help to showcase the musical storyline happening on the field, and in order to do so they regularly practice together and separately. In addition, they compete as part of the marching band to attain the superior rating.
Junior Shiann Black stated, "I would like to say 'we are the show'. The color guard performs with the band and practices with the band. Though we have a sectional every week called Guard only practice. This is when the guard works on choreography and anything else that needs to be done. This could be marching, drill, and/or just a toss with the flag."
2. Students take the lead.
Color guard is student run. The basis of colorguard is upon members, officers, section leaders, and Director Angelina Giuliano. Black and senior Ava Burnette are the color guard officers for the 2022-2023 marching band season. These two learn the show in advance, in order to teach the younger members during guard camp. If anyone is interested in joining the RHS color guard, they can reach out to Giuliano or officers Burnette and Black.
3. Props help to guide the movement.
Not many performance based groups put on a show with wooden rifles and sword like sabers. The group exhibits different members' strengths and weaknesses throughout the movement of flags, balls, and other wooden pieces like a picture frame. The use of these props is not typically shown by other groups outside of color guard alone.
4. It can be dangerous.
The fear of getting hit by a flag is not completely irrelevant. While it is not as often as one may think, Black did confirm that it is normal to walk out of your first rehearsal with a newly formed bruise or two. This is due to the dexterity required out of the movement of pieces and the strength needed to maintain the weight of heavy equipment throughout the guard's performance.
5. This year, they admitted the first guy in guard
This year, the color guard broke gender norms. In years past, the color guard has typically consisted of 10-20 high school girls. This season, freshman Shawn Vanover has taken light to the stage as he found interest in the performance aspect of this ensemble. Previously playing sousaphone as part of the marching band, color guard became something else on his radar.
Vanover stated, "…like I said it was last year I just found a lot of interest in it just because [color guard] seemed really fun. And I had seen the girls do it on the video of their performance and it just seemed really cool. And I heard that they were low on members, so I just decided to go."
6. You make the best of friends.
Many in color guard claim that it has completely changed their high school experience- for the better.
"Color guard has given me my best friends. At the end of the day it's not all about getting a one rating. I like [performing] in front of people because you can really feel the [band's] energy and everyone gives it their all during a performance," stated Burnette.
As a community this year, we have made a point to build new connections as well as support school wide accomplishments. This trivial team falls under this category nonetheless.
For any person looking to support the Ross Band of Class, they will compete next at Tipp City on Oct. 1 at 7:30p.m. General admission is $10 and gates open at 5:30p.m. All are encouraged to watch this prestigious ensemble and support them throughout the upcoming competition season as well as enjoy the show at the Oct. 14 Homecoming football game during halftime.
Leave a Comment
About the Contributor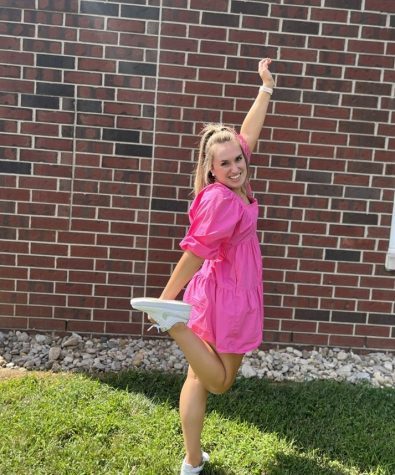 Lexie Gibbons, Editor and Staff Writer
Lexie is a senior at RHS and in her third year of journalism serving as an Editor and Staff Writer. She is an active part of Ross' Show Choir, but outside of school she enjoys traveling and spending time with the ones she loves most. Though no one truly ever knows what the future has in store, Lexie loves to laugh and make as many memories as possible!