5 Ways to Spread Sunshine
When someone is having a bad day, what can you do to add a little sunshine? Here are 5 ways to bring light to the people around you. 
1.  Share happy thoughts. Sharing happy thoughts can help others focus more on the positive rather than reminiscing on the negative. This will still allow them to experience their feelings but also try to help them find that positive place so their day can be a little bit brighter. 
Sophomore Frankie Lavalle spreads sunshine, "by being myself and making others happy."
2. Try to compliment someone. A small compliment can go a long way. Simple words like "I love your outfit," or "You look so good today!" can really turn someone's day around. People who are silently struggling tend to hide behind a smile, therefore the slightest compliment could impact their entire wellbeing.  
"I believe that one of the nicest things you can do to 'spread sunshine' and make someone's day is to use verbal kindness. Always say please and thank you (it's the polite thing to do), and compliment a small observation, like 'nice shirt' or 'great haircut'. And of course, show some appreciation for people's hard work by saying 'great job' or 'very impressive,'" stated freshman Andrew Garland.
3. Be there for people. Sometimes just asking someone if they need help or being a person they can talk to can really help someone. Reach out to others and check up on them, ask them what you can help them with. Just being present and there for someone can really help bring sunshine to their day and maybe even positively impact their life. 
Junior Ariam Sauerland stated, "Spreading sunshine can be as easy as sitting down with someone who is alone or saying hello to someone who seems upset and making sure they're okay."
4. Perform random acts of kindness. Doing something kind and random can brighten someones day. Random acts of kindness don't have to be extravagant just something simple and nice. RHS does this by high five friday and I as a journalism staff member had started a post-it note kindness wall. Ways that the student body could perform a random act; giving someone a piece of gum, giving someone a hug, or asking someone about their day. It's the little things that matter, so try doing a random kind thing today. 
Math teacher Amy Brossart stated, "Smiling at them in the hallway!!! Saying good morning!!! Just popping in to say hello! Sending a quick 'I'm thinking of you' text. Playing music, bringing in treats, and remembering their birthday."
5. Simply being polite. Having manners and being polite towards others is something very simple and effective. Saying things like "please", "thank you", "you're welcome", and a "hello" can go a long way. Being polite can show that you care. 
Freshman Chloe Johnson stated, "Use manners, there's too many people that don't."
Being respectful and doing kind things can really help spread sunshine to others. Try to be kind today, weather that be smiling at someone or even asking them how their day has gone so far. Continue to reach out to others. Go be kind today!
View Comments (1)
About the Contributor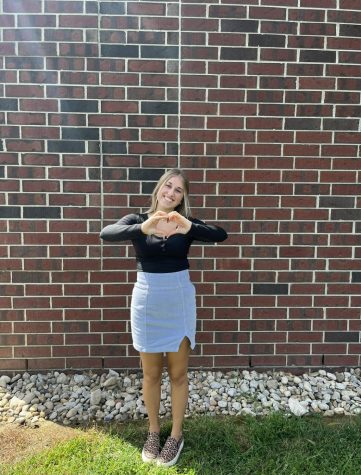 Payton Jones, Staff Writer
Payton is a senior in her third year of journalism acting as a co-marketing manager and staff writer. She loves to travel and live in the moment. Outside of school she loves being around people and trying to make the best out of every situation. Her favorite bible verse is Song of Songs 4:7 because it proves that everyone is beautiful and worthy. She also feels really strongly about helping with mental health and sharing others voices.