The Nu Energy Drink: Alani Nu
Alani Nu was introduced to the public in 2018 as a nutritional and energizing product. It started as energy drinks but has turned into a brand of protein powders, shakes, snacks, and wellness items. Energy drinks such as Alani have taken over the teenage population as they find their need for the products. 
According to Alaninu.com, "The bottom line is that our entire mission is to help you succeed…That's why we've worked so hard to create a company you can communicate with and fitness products you can trust."
For consumers,Alani has been their top choice recently as the company comes up with new products and flavors, as well as the nutritional value that is found within the wellness products. On the Alani website it is mentioned that the supplements are designed strategically to provide consumers with everything they need and nothing they don't. 
For many high school students they consume coffee which has a large amount of sugar whereas Alani has natural ingredients and less of a calorie count. For example in one 12 oz can there is 10 cal, 200 mg of Sodium, 20 mg of Potassium, 5 g of Total Carbohydrate, 17 mg of Niacin, 1.8 mg of Vitamin B6, 2.5 mg of Vitamin B12, 5 mg of Pantothenic Acid, 1 mg of Calcium, and 30 mcg of Biotin. 
Alani may use a lot of natural ingredients but the product in one 12 oz can carries 16.67 mg of caffeine per fluid oz which sums up to a total of 200 mg of caffeine. This is equal to two eight-ounce cups.That is the reason why numerous consumers have chosen to go with Alani products because of the calorie count and the amount of energy that is received from drinking one. 
Junior Maddie Sackenheim stated, "I like to drink my Alani before big games or when I know I have a long day ahead of me I will normally replace my coffee with one. It helps me stay energized and keeps my mood up."
As high school students we go through six hours of learning everyday, then for many go to practices, work or other activities after school. This can be very tiring and has created these energizing products to be hyped up for students much more. 
"I drink Alani Nu's because they make me feel more alert to everything and help me get through the whole day. I also feel as if these products give me more energy when I need it. I tend to drink them when I know I am going to have a long day and need to stay awake for certain activities", stated Freshman Rylee Klenk. 
Another reason why Alani is so popular is because of the numerous flavors there are of each product, especially the energy drinks and protein powders. 
Sackenheim stated, "My favorite flavor is the Breezeberry flavor, it tastes just like blue raspberry. One of my least favorites was Berry Pop when they did a collaboration with Addison Rae."
Some of the most popular flavors are the Cosmic Stardust and the Breezeberry. Recently Alani has come out with a seasonal fall flavor known as Witches Brew. It not only has become highly popular amongst consumers it also has become a popular pre workout flavor. 
"My favorite flavor of Alani is Cosmic Stardust personally because it tastes the best in my opinion, and I like the detailing on the can. My least favorite flavor is Mimosa because it really does not taste good, it has too much carbonation which I think takes away from the flavor",stated Klenk
Many of these products and flavors have been popularized due to social media sites such as Instagram, TikTok, and advertisements on Snapchat. This allows teenagers and younger adults to see the new flavors and how popular their brand is. 
Alani Nu is not the only energy drink on the market but has definitely taken the market by storm as the company continues to grow and advertise more new flavors and products. Alani products are sold at stores such as Dicks Sporting Goods, GNC, Target, Kroger and gas stations. Consumers can visit on their website Alaninu.com to order products as well as see newly launched products and flavors. 
Leave a Comment
About the Contributor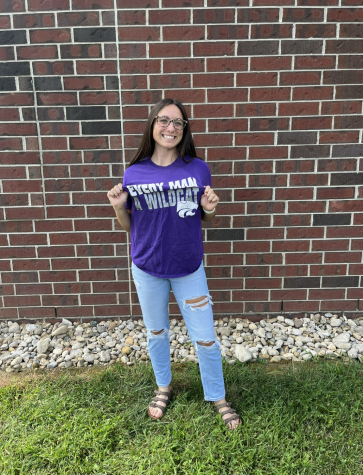 Estella Varner, Sports Editor and Staff Writer
Estella is a senior in her third year of journalism serving as the Sports Editor and Staff Writer. She is on the RHS swim and softball teams, and serves as the Student Athletic Trainer, Vice President of FCCLA as well as a part of a club soccer team and competitive dance team. Outside of school she enjoys spending time with her dog Apollo, friends and family. Estella plans on going into an Exercise Science degree with the path of Athletic Training post-graduation as well as playing college soccer at Mount Saint Joseph University.