What's Next for the Rams?
Ross Athletic Director, Mr. Justin Beck, alongside the Ross Athletic department have chosen not to renew a two year contract with Stephen T. Badin High School in following sport seasons. While this may come as a shock to some, it has been decided for the best interest of all Ross High School athletes. 
Moving forward, RHS will now play in the Southwestern Buckeye League. The discontinuation of the 'Ram vs. Ram' rivalry stems from the fact that Ross no longer has the space available to schedule in future games with teams that are not in the new league.
Beck stated, "So between the league change and us moving up a division in almost every single sport, it provided us the opportunity to really take a comprehensive look at all sports schedules and make the best decision across the board for our teams."
Rest be assured that just as this rivalry was resurrected a little over six years ago, it may find itself alive and well again. This is not the end of a once passionate adversary, but more or less a temporary 'break' in the relationship. 
Principal Brian Martin stated, "…we kind of revisit things every year and we say okay, what worked, what didn't work, and what does our schedule allow us to do?…as our enrollments change and fluctuate, we will in a couple years probably be back in the same division as Badin in a lot of sports. So we'll see them, we'll run into them in tournaments, postseason play…It's just a matter of when it's gonna happen."
With RHS offering up one rivalry, they are actively searching for others in the new division. The conference to follow will host schools old and new, challenging and pushing our athletes to be better than before.
RHS athletic leadership has not let the sense of school pride fall at the idea of losing a previous opponent. Instead, they are picking up new schools that will redirect the rivalrous spirit. The student section has proved to have consistent involvement, with the 'ramily' showing up, and showing out for every team in this postseason, including the RHS vs. BHS showdown. 
Head Football Coach and Dean of Student Behavior, Mr. Kenyon Commins stated, "If our school spirit increases or decreases by who we play that's a much larger issue. I understand that there are some teams that people may be more excited to play than others, but the school spirit shouldn't revolve around who we're playing."
Seasons of life change and require attention to fine details in the process. In light of this, RHS athletic advisory has made the decision to better their students and use team time in a wise manner. It is important to note that the best interest of students is always at heart. 
Martin stated, "The number one thing that we care about is you guys [the students]. We care about our students. We care about your health, your safety, your mental health and your well being. "
Students and fans can anticipate games against teams such as Badin for the remainder of the school year. However, the league change will take place in 2023 with the beginning of Ross' fall athletics. 
Leave a Comment
About the Writer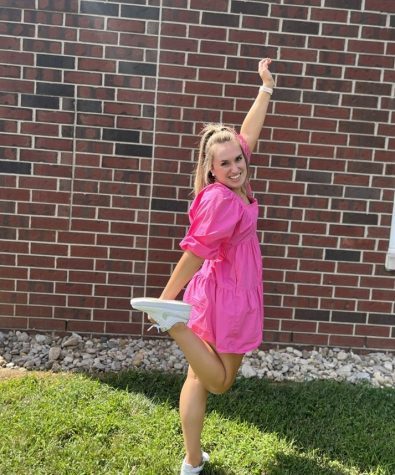 Lexie Gibbons, Editor and Staff Writer
Lexie is a senior at RHS and in her third year of journalism serving as an Editor and Staff Writer. She is an active part of Ross' Show Choir, but outside of school she enjoys traveling and spending time with the ones she loves most. Though no one truly ever knows what the future has in store, Lexie loves to laugh and make as many memories as possible!