Golf in SWOC
The Ross High School golf season has come to a close and the standings are in. The boys' golf season ended on October 5 and the girls' season ended on Nov. 28. Although the teams didn't have a similar record, both teams still had a good, fun season.
Boys' golf finished third in the Southwest Ohio Conference while going 12-12 for conference games and 16-18 overall. Only Harrison and Talawanda finished above them with Edgewood and Northwest on the bottom of the standings.
The team was led by seniors Brayden Burt, Ryan Davis, Stephen Mallory, Jack Schottelkotte, Jeff Valentine, and Mitchell Naehring. Ross also had underclassmen help with the success, including Ricky Rompies, Logan Lampe, and A.J. Holbrook.
Unlike the boys, the girls only had four players. Three students were seniors, Lucie Baudry, Emma Estridge, and Sydney Prewitt, who were alongside freshman Riley Engel. The team was short-handed this year with only four players, meaning if one or two golfers have a bad day on the course, their chances at winning are very low compared to other teams.
Girls' Varsity Coach Jeff Napier stated, they only had the four girls on the team and usually there are six, but the girls did so well this season that if they would have had those extra two players, they would have won "90 percent or more of our matches."
Nevertheless, the girls' on the team still found a way to shine through the circumstances. They didn't have as successful of a season as the boys, according to their record, because of the minimal players. The girls still got to play out the season together, learn to grow as golfers, and get better with every swing.
Senior golfer Emma Estridge stated, "The best part of the season this year was getting to see myself and my teammates improve. I've definitely improved every season but it was very noticeable this year. I was able to work out a lot of problems in my swing and that really made a difference."
Senior golfer Mitchell Naehring stated, "… you get to meet a lot of good people throughout the matches and always have fun regardless of how you play."
For both the boys' and girls' teams, it was a memorable experience out on the green. Any student can play next season if interested in golf or go support the teams next year. The Rams hope to have more and more successful seasons in the future.
Coaches information can be found on the Ross Rams Athletics department for anyone interested in playing golf next year. Any student looking for a fun extracurricular activity, wanting to be around new people, or who likes golf in general can sign up next year to play golf.
Leave a Comment
About the Contributor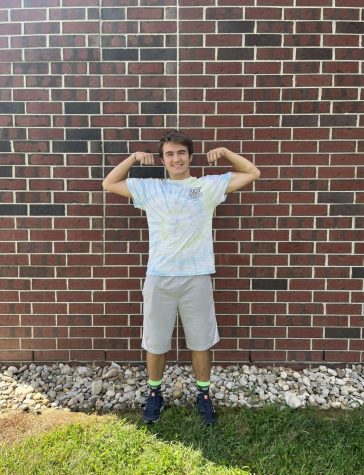 Jonathon Woedl, Staff Writer
Jonathon Woedl is a junior at Ross High School and in his second year of journalism as a Staff Writer. He plays baseball in the spring for the school and in the summer. He loves to play all kinds of sports with his family and friends and go to youth groups as well. He doesn't know exactly what he wants to do in college but knows he wants to go to college to play baseball and pursue his life for Jesus.