Meet the Staff: Mrs.Leal
As the 2022-2023 school year comes to the halfway point, there are still some new faces around RHS. While walking through the front office students, staff and parents may recognize our new Office Secretary Mrs. Brandy Leal. 
Before starting her career at RHS Leal worked at Proctor and Gamble for over 26 years. She then moved and worked as a Senior Executive Assistant supporting a Sector CEO. Now as an Office Secretary Leal does numerous tasks such as helping parents and students when they come into the office or call the school. She also arranges the sub coverage when teachers are out. 
Leal stated, "The need for more flexibility was a motivating factor when making the decision to leave my previous career and join RHS."
That same flexibility allows her more time to spend with family, something that is very important to Leal. For her position she is able to have a fixed schedule, as well as be able to be involved with her family in the evenings and on weekends. 
"I enjoy spending time with family and attending all of the activities my children are involved in. Being present for my family has always been my top priority," stated Leal. 
Leal has three kids: Madison, Collin and Ethan. Madison graduated from RHS in 2019 and is graduating from Miami with a K-5 teaching license. She is currently a student teacher in Ireland helping teach english to Ukrainian refugees at a school in Westport. Collin is a sophomore at RHS, he is involved in the Marching Band and plays baseball with a love for pitching. Ethan is an eighth grader at RMS, and he is also involved in band . He is a big debater, Leal hopes he will be involved in Mock Trial when he is in high school.  
A few interesting facts about Leal is that her favorite color is different shades of blue currently. She wants to visit Italy one day since her favorite food is Italian food. Leal loves to watch baseball and listens to the symphony channel during her commute, but she also loves Jason Aldean and Matchbox 20. Leal also enjoys visiting antique stores and refinishing furniture as well as doing projects around the house.
While this is her first school position she has found numerous positives that involve her being the face of the RHS office. One positive that she has found is seeing and speaking to a lot of people throughout the day.
Leal stated, "Seeing the smiling faces of so many great kids who have tons of potential and are already doing so many amazing things." 
Leal welcomes everyone with a smile as they enter into the building and takes care of their needs each and every day. As she works alongside Principal Mr.Brian Martin and the other office workers she continues to grow her knowledge. 
Martin stated, "Mrs. Leal is doing a great job in her new role as the Head Secretary at RHS. She welcomes everyone with a smile and is learning the ropes of being a school secretary. We are very excited to have her."
As the school year continues on Leal will be in the office helping the RHS staff members and students. A smile can go a long way in anyone's day, so make sure to say hello and welcome her into the RHS family.
Leave a Comment
About the Contributor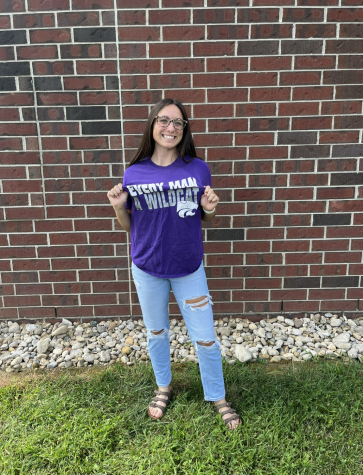 Estella Varner, Sports Editor and Staff Writer
Estella is a senior in her third year of journalism serving as the Sports Editor and Staff Writer. She is on the RHS swim and softball teams, and serves as the Student Athletic Trainer, Vice President of FCCLA as well as a part of a club soccer team and competitive dance team. Outside of school she enjoys spending time with her dog Apollo, friends and family. Estella plans on going into an Exercise Science degree with the path of Athletic Training post-graduation as well as playing college soccer at Mount Saint Joseph University.