Band Of Class Receives Superior Rating
On Sunday Nov. 6, Ross High School's very own 'Band of Class' competed for the last time in the 2022 season at the OMEA State Marching Band Competition in Dayton, OH. Following the challenges that naturally come with a long and grueling season, the team banded together to perform with excellence and later bring home a superior rating of 1. 
In order to go to the state competition the band has to compete at many other small competitions and receive a certain score. It is important to note that even the smallest details are taken into consideration from the judge's perspective: cohesion of instruments' sound and the color guard's rhythm. 
Competing in the Class A division with 92 members, parents, siblings, significant others, and various individuals watched as the group took the field in anticipation of what was to come.
Senior and spectator Elizabeth Butzin stated, "The band going to state was so nerve wracking because every weekend while they were at competitions I was waiting to hear if they had got the one to even make it to state. Also with the fact they worked so hard those two weeks to prepare for state. The anticipation eats me alive. I get so excited to celebrate for them and with them. I have watched them since July. Being able to watch them continuously improve is mind blowing."
Every band member is expected to be at their very best in each performance for the team, just as each member of the band is expected to be fully involved in every rehearsal. Focus can be key to the success of a team all withholding the same end goal. Marching band typically rehearses every school day during the second half of the third block, as well as after school on Tuesdays and Thursdays. 
Sophomore mellophone player Jordan Reed stated, "The amount of effort we put into practice each week may have been different, but the practices we went hard on moved the group and you could tell. The practices were a lot more of getting things done, so when we performed we knew what was right and wrong. Unlike last year, when we went to state, I saw how calm and ready the whole group was to get this 1. This year was a step above last year, and you can see how much we cared. We definitely got what we worked for."
RHS' Band of Class shouted and cheered as their rating was called through the stadium. Knowing the result was worth it in the end brings joy that cannot be contained. Tears were shed and hugs were given. This moment long awaited bonded the team far more than ever before. 
Reed also stated, "The hardest thing was keeping our trajectory consistent throughout the season. Getting an overall score higher and higher each week was our goal. Especially without having a football game each week to see how we perform our show under pressure did not help. As a sophomore I felt like it was an easy year, I was not scared of what was coming next and what I was losing, I was just there."
The true importance in the hardships of the season spent together is found in the relationships members of the band walked out with. While the end may not be in sight, it was nearer than one would think. 
Junior Flute player Laney Johnson stated, "I think it definitely bonded the team because it gave us what we had been working so hard for. There was lots of hard work and we could never really lose focus or take time off, and now all the practices and time spent has paid off. We all appreciate how much work everyone else has done and how everyone gave it their all. I think getting the superior rating is something we all wanted and something we know wasn't guaranteed so everyone is excited for everyone else in the band. We all now share that same experience and excitement and it's something that definitely brought everyone closer!"
The 2022 Marching Band season has come to a close and will go down in history as a success for RHS as a whole. The band will continue to perform with one another in the concert season during the following winter.
Leave a Comment
About the Contributor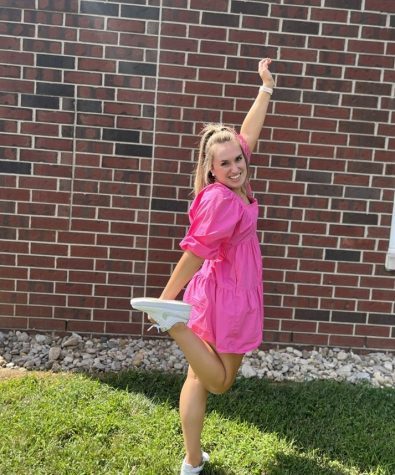 Lexie Gibbons, Editor and Staff Writer
Lexie is a senior at RHS and in her third year of journalism serving as an Editor and Staff Writer. She is an active part of Ross' Show Choir, but outside of school she enjoys traveling and spending time with the ones she loves most. Though no one truly ever knows what the future has in store, Lexie loves to laugh and make as many memories as possible!