Hard Times Don't Define Me
Many of you know me as Estella Varner, a senior student athlete at RHS, a part of the soccer team for three years, a swimmer and softball player for two years. Academically I have been a writer for our school newspaper for three years, a part of FCCLA for all four years and a CCP honors student. For many that is all they see. They don't see the struggles I faced as a child of an addict and the healing after losing a parent. 
I do not fully remember my childhood but most of what I do remember is the good. I loved my dad and still do but when I was growing up I was a Daddy's girl through and through, that was until I started being raised more by my mom. 
When I was with my mom we would be at the dance studio every night until late. This allowed my mom to hide us from what my dad had been doing. We would always sleep in the guest bedroom of our house with the door locked. 
I vividly remember one day when the police came to arrest my dad for breaking and entering into my great grandmother's house. He was on the porch in a white t-shirt and jean shorts drinking a beverage, listening to music and enjoying the day. He was not in prison very long for that but that incident started everything. My dad went to prison a few times in his life, being gone for a year or two at a time. This made it harder for me to want to see him when he was out. 
Eventually he went to a rehab center and met my sister's mother, which was not a good relationship at all. She would call and scream at my mother, create issues between my dad and his family and she later sent him to prison once again. 
His last time in prison he really cleaned up and changed. I remember being so happy to see him and to be around my sister, even if she was the daughter of someone I saw as evil. I got to be around my dad and that is all that mattered. 
This part of life was good, he was finally clean, had a job and was planning on building a home for his family. This all quickly changed during December. I was 12 and in sixth grade when I found out my dad passed away on Dec 10 of 2016.  
It was hard from that point on, I didn't really want to talk to my friends or anyone. As a child of a deceased parent, people are always trying to get you to speak on the trauma and sadness, but as a middle schooler I kept it all in. 
I used sports as an outlet. This pushed me to eventually join the track team in eighth grade. That decision really made me who I am today by making the decision to better myself and to surround myself with people who did not see me as a girl without a dad but as an athlete. 
Now as a senior and a committed athlete I truly feel as if I have overcome a lot that most people will never have to go through as a teenager. I do miss my dad tremendously and that day as well as many days are challenging but I always remind myself he is always watching and would be proud of the person I am today. 
Leave a Comment
About the Contributor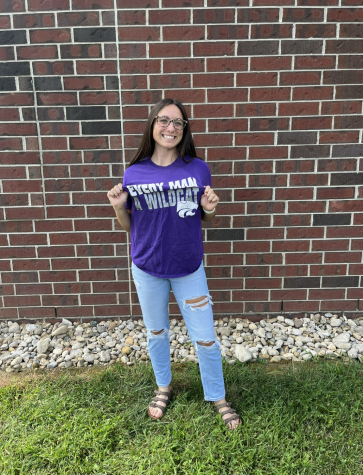 Estella Varner, Sports Editor and Staff Writer
Estella is a senior in her third year of journalism serving as the Sports Editor and Staff Writer. She is on the RHS swim and softball teams, and serves as the Student Athletic Trainer, Vice President of FCCLA as well as a part of a club soccer team and competitive dance team. Outside of school she enjoys spending time with her dog Apollo, friends and family. Estella plans on going into an Exercise Science degree with the path of Athletic Training post-graduation as well as playing college soccer at Mount Saint Joseph University.