Personal Essay: Who Am I To Tell Me Who I Should Be?
At age five, Alexa dreamed of someday becoming a mom. Surrounded in love, this was nothing less than a byproduct of who her parents were raising her to be. Unbeknownst to the reality of the outside world, she played with her Bitty Baby Doll, the absolute embodiment of innocence and child-like-faith. 
If you had asked her again at age seven what future aspirations she had, they would've fallen along the lines of becoming a 'teacher' or a 'nurse'. Alexa and I are quite similar in this way, as we both dream to help others with compassion that many professions lack. 
Then at age 10 and 12, Lexy, a slightly taller and more dirty blonde version of that previous five-year-old, would've told you she craved a sense of stability. I empathize with this version of myself as I knew nothing, and remember the feeling of being completely alone. I wish I could go back and hold her. I wish I could squash the uncertainty that loomed in the dark rooms. However, to tell her that things soon settle down, would essentially be lying to myself. 
Fourteen-year-old Lexie wanted to sing and dance on a stage with her best friends. While I still enjoy the presence of being under the lights with the ones I love most, it is for far different reasoning. Lexie conformed, I refuse to trade in my wonder and fascination of all that could be, and all that ever was for a more sensible path. I fear the loss of freedom that comes with an indifferent identity. 
The soon 16 year-old girl discovered the truth of love and what it was to be heartbroken. 17 year-old Lexie tried again.
Matter of factly, I am still here: preparing. Preparing for college, preparing for relationships, preparing to move and change, and to leave everyone and everything I have ever known. However, I am still doing it as who I was before and who I will be after. 
I live in a constant divergence. A push and pull that modifies who I am relentlessly. I am a chameleon within my own skin as I have changed with the seasons to be five, seven, 10, 12, 16, and 17-years-old. I have loved, and I have been loved. I have trusted and tried again.
If I am not one person but a collection of every identity I have ever assumed, I can't help but wonder, "Who am I to tell me who I should be?"
Leave a Comment
About the Contributor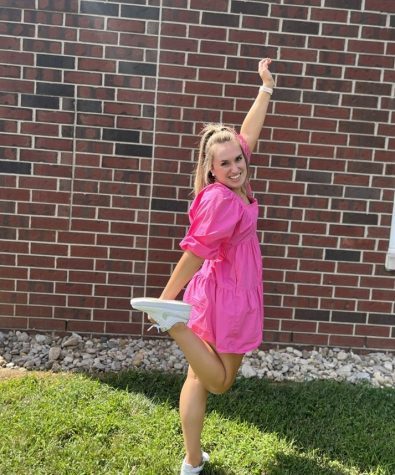 Lexie Gibbons, Editor and Staff Writer
Lexie is a senior at RHS and in her third year of journalism serving as an Editor and Staff Writer. She is an active part of Ross' Show Choir, but outside of school she enjoys traveling and spending time with the ones she loves most. Though no one truly ever knows what the future has in store, Lexie loves to laugh and make as many memories as possible!