Coming Together For Damar
On Monday Jan. 7, only two weeks before the playoffs, the Cincinnati Bengals and Buffalo Bills played one of the scariest, shocking games in National Football League history. It wasn't just a normal football game with touchdowns, field goals, and players running around the field like every fan, coach, and player expected. This specific football game turned the focus from one of the most important games of the year to one player on the field. That player was Damar Hamlin. 
Whoever would've won this game would have a chance for the number one seed in the AFC. It was towards the end of the first quarter when Bengals quarterback, Joe Burrow, threw a pass to Tee Higgins. Higgins went a few more yards down the field before he was tackled by Buffalo Bills safety, Damar Hamlin. After what looked like an ordinary hit, Hamlin popped up from the ground, adjusted his helmet, and then fell suddenly to the ground without catching himself.
The Buffalo Bills trainers sprinted onto the field and after not finding a pulse, they started giving Hamlin cardiopulmonary resuscitation, or CPR. Hamlin had gone into cardiac arrest. The last time this happened was in 1971 when Chuck Hughes had a heart attack which led to him being the only NFL player to pass away while playing. The game stopped and everyone in the stadium and watching at home was silent. Bills' players started sobbing for their teammate and didn't know what was going to happen or what to expect moving forward. 
The players didn't know if they were supposed to resume play of the game or not. They came to an agreement that their player's safety was much more important than resuming a football game. Therefore, the game was cancelled and would not resume play at all.
Junior Carson Adams stated, "It just made me realize even more how dangerous football is and how important the medical staff and first responders at the game are."
Hamlin was eventually transported to the University of Cincinnati Hospital where fans stood outside his hospital room with signs and prayers. He wasn't breathing on his own, but doctors did have his pulse. All the hope was in the fact that Damar was somehow still alive.
Sophomore Collin Leal stated, "I feel like the way the fans were brought together has never truly been seen before, and it was much more serious than anything witnessed before."
Just about two days later everyone's prayers came true. Hamlin woke up and made remarkable improvements according to UC doctors. One of the first things that he did was ask if they won the game in which the doctors responded, "Damar, you won. You won the game of life."
This event affected the NFL, fans, and even the players. As soon as the incident occurred, players blocked all views of Hamlin on the turf and eventually made circles of prayer. Along with the players praying on the field, fans started praying for Hamlin, and ESPN analyst Dan Orlovsky prayed on live television. Many fans also made signs saying "pray for Damar" and "pray for 3."
About one week after Hamlin's brutal injury, the Bills played the New England Patriots. Hamlin watched the game from his hospital bed with his family and on the very first play of the game, running back Nyheim Hines took the kickoff to the endzone for 96 yards. The play was shocking and stunned Bills quarterback Josh Allen.
Allen stated, "It was spiritual. It really was. Bone-chilling. It was special. I can't remember a play that touched me like that, I don't think in my life. …just something I was going around my teammates saying 'God's real.'"
The news on Hamlin got even better. On Jan. 11, Hamlin was released from a hospital in Buffalo after being transferred there from Cincinnati. He's able to walk on his own and doesn't need anything like breathing tubes anymore. He is doing so well that he even visited the team before their win against the Dolphins in the divisional round of the NFL Playoffs. 
His toy drive, The Chasing M's Foundation Community Toy Drive, has raised nearly 9 million dollars due to fans and NFL teams donating after the events on Jan. 7. The online website "Fanatics" made the decision to donate all proceeds from Damar Hamlin jerseys to Hamlin's foundation.
This whole incident has shown how the NFL and their fans can come together for a greater cause and put the players above the game itself. But it also has proven something that we must not forget in the future. That one thing is prayer really does work.
It is currently uncertain whether Hamlin will be back on the football field any time soon, if at all, after his injury, but the main thing is that he is alive and well. Hamlin and his family have shown great gratitude to everyone who supported him through the whole thing. If you want to show more support for Hamlin, you can donate to his GoFundMe for his charity.
View Comments (1)
About the Contributor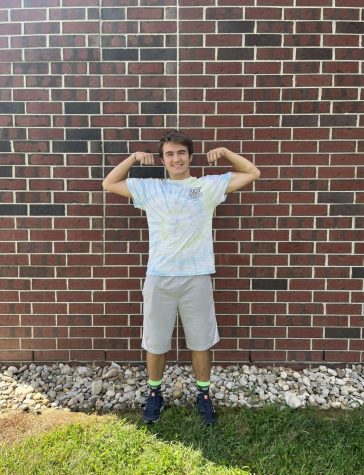 Jonathon Woedl, Staff Writer
Jonathon Woedl is a junior at Ross High School and in his second year of journalism as a Staff Writer. He plays baseball in the spring for the school and in the summer. He loves to play all kinds of sports with his family and friends and go to youth groups as well. He doesn't know exactly what he wants to do in college but knows he wants to go to college to play baseball and pursue his life for Jesus.