Meet Emmalee Forch: Front Office Secretary
As of Jan. 3, 2023, students and staff may have noticed a new face as they enter and exit the front office Doors of Ross High School. RHS welcomes Mrs. Emmalee Forch. 
Forch is a graduate of Butler Tech school of Cosmetology, as well as New Miami High School where she met her now husband. Later on finding herself working in the customer service wing of a background check company, Forch decided it was time for a shift in positions. 
"I've been looking for a position like this for a while. Just you know, I feel like it's great for my family, be off with my kids in the summers and breaks and things like that. And then I've known Becky for a while – I'm sorry Mrs. Morgan – for over 10 years. And she had sent me a text and said that they were hiring and I should apply," stated Forch.
After interviewing, Forch was offered and accepted the position. Picking up where others left off, Forch is excited to be entering this new position with a positive attitude for what lies ahead. It is evident in the enthusiasm she expresses to others in her work environment. 
Morgan stated, "Mrs. Forch interviewed with Mr. Martin and the rest of the interview team and they all were very impressed with her! She has made a great addition to our front office staff and we are so happy to have her here. It is difficult to jump into a new role mid school year, but she has taken it in stride and is doing an excellent job. I have known Mrs. Forch for many years and it is great to have a familiar face in the front office."
RHS Principal Brian Martin has also taken an immediate liking to our new office addition, boasting of her ability to fit into the rhythm of a high school halfway through the year.
"We're very excited about the skill set and enthusiasm that Mrs. Forch brings to the position.  There were a number of applicants but just as we do with any position at RHS, we hired the person we felt was most qualified. We hope that Mrs. Forch will be the face of Ross High School for many years to come," stated Martin. 
Part of Forch's position as front office secretary is to plan the upcoming graduation season. She claims that this is one of the most fun aspects of her job.
"So right now I'm looking into ordering the diplomas, the diploma covers and getting like the class lists and I'll be sending out an email to all the seniors. I kind of created a questionnaire. They need to know if you want to walk, yes or no, your yard sign what name [sic] you want on that…That is what I'm working on as of today," Forch stated.
Outside of planning graduation, Forch administrates various miscellaneous activities throughout RHS alongside Attendance Secretary Mrs. Brooke Baird. The two work closely alongside one another, as Forch is learning from Bairds previous experience in RHS.
Outside of school, Forch is a huge Cincinnati Bengals fan and thoroughly enjoys frequenting games with her husband and two boys as they are season ticket holders. She states that even when the Bengals have an away game, her family can be found cheering the team on. This bleeds into Forch's excitement for future RHS spirit days, as it will allow her to express her rekindled school pride she held as a cheerleader at her own high school. 
While walking past the main office or seeing Forch at a future football game, make sure to stop and introduce yourself to the new addition of the Ross family. Forch is excited to continue first semester at RHS, while also looking forward to those to come.
Leave a Comment
About the Contributor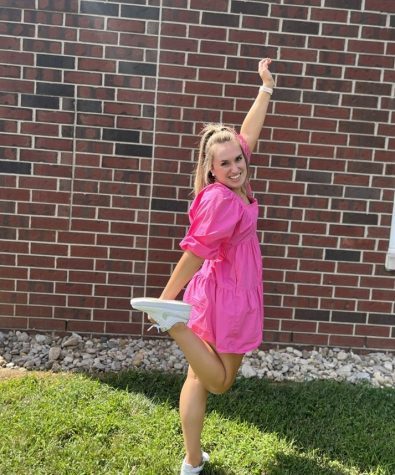 Lexie Gibbons, Editor and Staff Writer
Lexie is a senior at RHS and in her third year of journalism serving as an Editor and Staff Writer. She is an active part of Ross' Show Choir, but outside of school she enjoys traveling and spending time with the ones she loves most. Though no one truly ever knows what the future has in store, Lexie loves to laugh and make as many memories as possible!